NFL Nation, ESPNMay 11, 2023, 09:00 PM ET
The 2023 NFL schedule was released Thursday.
Can quarterback Patrick Mahomes and the Kansas City Chiefs repeat as champs?
The Chiefs will kick off the NFL season Thursday, Sept. 7, by hosting the Detroit Lions. ESPN's Monday Night Football opener is Sept. 11 and will feature the Buffalo Bills at the New York Jets for Aaron Rodgers' debut with the Jets.
Editor's Picks
2 Related
Based on strength of schedule — which is determined by opponents' records in 2022 — the Philadelphia Eagles have the toughest schedule of the 2023 season and the Atlanta Falcons the easiest.
The final regular-season games for the 2022 season will be played Jan. 7, 2024. The playoffs begin Jan. 13 and continue through Super Bowl LVII on Feb. 11 in Las Vegas.
Here's a bold prediction for every team following the schedule release. Click on the links to see the full schedule and more analysis.

NFC EAST

The Aaron Rodgers Curse ends. Rodgers has never lost at AT&T Stadium (4-0). His lone Super Bowl win came there, with Mike McCarthy as coach. Rodgers broke the Cowboys' hearts there in the divisional round of the 2016 playoffs, threw the winning touchdown pass to Davante Adams in 2017 and ran out to a 24-0 lead in a 10-point win in 2019. But those were with the Packers. This time, McCarthy gets one over his former quarterback and the Jets in Week 2. Read more from Todd Archer

The Giants beat the Cowboys in the opener. Hey, any win over Dallas is a bold prediction these days, especially when you figure this will be the seventh time in the past 12 years they've met in the opener. The Giants have won only once. The Cowboys have won 11 of the past 12 meetings between the teams, but this is a different team under coach Brian Daboll and general manager Joe Schoen. Read more from Jordan Raanan

The NFC East will be up for grabs Week 18. There hasn't been a repeat division winner since 2004. And while the Eagles have the firepower to buck that trend, the NFC East is in the midst of a resurgence with every team finishing with a .500 record or better in 2022. Couple that with the Eagles' difficult schedule, and it should be a photo finish. Read more from Tim McManus
Slow starts have been common in Ron Rivera's first three seasons. Washington started 1-5 in 2020; 2-6 a year later and 1-4 last season. The Commanders then have rallied each year with strong stretches, but the past two years the holes were too deep. So, they will start at least 3-3 and put themselves in position for a stronger season. It helps that four of their first six games are against teams that went a combined 19-49 last year — and their first two opponents will have new coaches. Read more from John Keim
NFC NORTH

Top stories of the week from
Get exclusive access to thousands of premium articles a year from top writers.
• The year of the terrible baseball teams »
• Ranking the 100 best NFL draft picks »
• The ultimate football recruit rankings »
More ESPN+ content »
The Bears aren't constructed to contend for the playoffs in 2023. But, with a shifting landscape in the NFC North, Chicago will end up winning three of its six divisional matchups after going 0-6 against Detroit, Green Bay and Minnesota last season. It starts with a win in the home opener against Green Bay followed by another win at Soldier Field against Minnesota on Oct. 5 and culminates on Nov. 19 in Detroit in the midst of a tough stretch with four of five games on the road from Week 8 to 12. Read more from Courtney Cronin
The Lions will win their first NFC North division title. Although the Lions have won their division before, most recently in 1993, it was called the NFC Central and had five teams. Aaron Rodgers and the Packers had ruled the division of late, winning three of the past four titles. With Rodgers gone to the New York Jets, and after closing out the year with a win at Lambeau Field over the Packers for the regular-season finale, the division is up for grabs. The Lions had their first winning record since 2017, after winning eight of their final 10 games in 2022 to finish at 9-8, and will look to go even further under head coach Dan Campbell. Read more from Eric Woodyard
Quarterback Jordan Love and the Packers will start fast and have a winning record early given that their first six games — and eight of the first nine — are all against non-playoff teams from a season ago. That will keep the Packers relevant late in the season, and they won't get flexed out of any night games. Read more from Rob Demovsky

The Vikings are going to be under .500 in both their first five games and their last five games, which makes those seven in between crucial to their playoff chances. The first five opponents include both Super Bowl LVII participants — the Kansas City Chiefs and Philadelphia Eagles — as well as the Los Angeles Chargers, another 2022 playoff team. And the Vikings' final five opponents include one AFC Championship Game participant (the Cincinnati Bengals) and three divisional games that are never easy, including two against the Lions and one against the Packers. Read more from Kevin Seifert
NFC SOUTH

The Falcons win the NFC South. Atlanta has made enough on-paper improvement defensively combined with a plethora of offensive talent surrounding quarterback Desmond Ridder to make a legitimate case as the top team in an uncertain division. That theoretical light schedule will help, as will having to face one of their toughest opponents, Jacksonville, at a neutral site instead of on the road. A 10- or 11-win season is possible for Atlanta, which could have almost a quarter of its schedule against rookie quarterbacks. Read more from Michael Rothstein

Bryce Young, currently listed second on the depth chart behind Andy Dalton, will be the Week 1 starter against Atlanta. He'll get off to a 2-0 start on his way to winning Offensive Rookie of the Year just as Cam Newton did in 2011 after being the No. 1 overall pick of that draft. Young will one-up Newton (6-10 as a rookie) by leading Carolina to the playoffs for the first time since 2017 in an NFC South that is up for grabs since the retirement of Tom Brady. Read more from David Newton
The Saints will finish with a better divisional record after going 2-4 last season. It's too early to know if they have the ability to win the division, but they have a prime opportunity to finish better than a three-way tie for 7-10. Read more from Katherine Terrell
The Buccaneers will start 1-3 before taking their bye. But, quarterback Baker Mayfield will lead them to seven wins in his first season in Tampa Bay. Read more from Jenna Laine
NFC WEST

Regardless of how they start, the Cardinals will find a rhythm and some wins starting around Week 9 when they travel to Cleveland. That'll start a string of winnable games: Home against Atlanta is next followed by a trip to Houston and then home against the Rams. Murray will likely be back by then, and that four-game stretch could be a reprieve from a brutal start to the season in the first eight games. Read more from Josh Weinfuss
Cooper Kupp gets off to an even stronger start than he did in 2022 — and he will keep up the pace. Entering Week 10 — the week he injured his ankle and what ended up being his final game of the season — Kupp had 72 catches for a pace of 153 over a 17-game season. The NFL single-season record is 149 by Michael Thomas for the Saints in 2019. Kupp did that without having a healthy Matthew Stafford for some of the season. Read more from Sarah Barshop

What to know for the 2023 NFL draft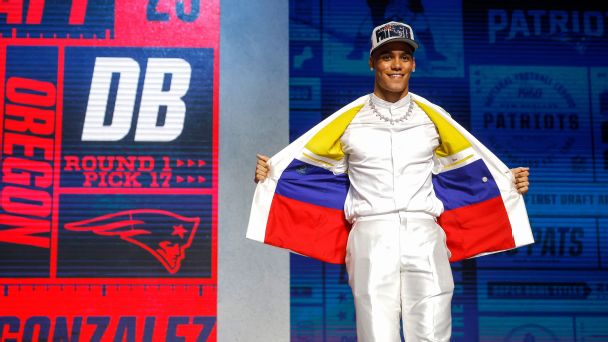 • See all 259 picks » | Team by team »
• Kiper's grades » | McShay's best picks »
• 100 great picks » | Draft superlatives »
• Pick analysis » | Ranks » | Read more »
Quarterback Brock Purdy will start all 17 regular-season games. Since coach Kyle Shanahan and general manager John Lynch arrived in 2017, the Niners have gone through an entire season with one starter once (Jimmy Garoppolo in 2019). What's more, Purdy is coming off elbow surgery, which has left some wondering if he will even be back in time for Week 1. But the Niners are confident in how Purdy's recovery is going, and it's possible he will be fully cleared as soon as five months after surgery. All Purdy has to do after that is stay healthy and productive enough to hold down the job the whole season. It's a big ask, but the 49ers' faith in Purdy is very real. Read more from Nick Wagoner

The Seahawks will beat the Bengals in Cincinnati in Week 6 for a 4-1 start. That's one of four 10 a.m. PT kickoffs on their schedule, but they've been excellent in the early games in recent seasons and will be well rested coming off their bye. They should be heavily favored in home games against the rebuilding Los Angeles Rams and Carolina Panthers, meaning they'd have to win those, plus another road game against either the Detroit Lions or New York Giants — two playoff teams from a year ago — in addition to beating the Bengals for a 4-1 start. Read more from Brady Henderson
AFC EAST

What a prime-time bonanza the Bills have from Week 6 to Week 10, with four in five games, and that's not even including the game against the Jaguars in London that will be broadcast to a national audience in Week 5. This will be an interesting stretch, and Buffalo will take advantage to win all four of those prime-time games, including that rematch in Cincinnati. Read more from Alaina Getzenberg

The Dolphins will have seven wins by the time they hit their Week 10 bye. Those first nine games are far from easy, with five games against playoff teams from a season ago, including both Super Bowl participants. Miami should be able to handle games against the Patriots (twice), Broncos and Panthers, so in order to hit this lofty prediction, it will need to win those games and win three against the Chargers, Bills, Giants, Eagles and Chiefs. Sure, it seems bold, but last year I predicted the Dolphins would start 8-2. They instead started 7-3 with Tua Tagovailoa missing two games, so maybe I'm onto something here. Read more from Marcel Louis-Jacques
The Patriots will be 5-5 at their bye week, showing gradual improvement that will spark hope for the second half of the season. Getting to .500 at the bye looks like it could be a challenge because of the combination of a challenging opening stretch of opponents and Bill Belichick sometimes referring to September as an extension of the preseason in terms of how his team comes together. Stealing at least one division win before the bye will be critical, and the Patriots will do that — with their best chance coming against the Dolphins in Week 2. Read more from Mike Reiss
The Jets will hit their bye week at 4-2, which would be quite an accomplishment when you consider the difficulty of their schedule. Everyone will focus on Rodgers, of course, but the defense will carry the flag. Like the Jets, the Cowboys, Patriots, Chiefs, Broncos and Eagles will have new offensive playcallers. That means early growing pains, which could mean lower scores than expected. With nine starters returning on their fourth-ranked defense, the Jets should be well equipped to win those kind of games and carry the team until Rodgers and the offense find their footing. Read more from Rich Cimini
AFC NORTH

Ticket Center
The 2023 schedule is out and Vivid Seats is here to help fans find tickets in their price range. Start making plans for that perfect road trip!
Disclaimer: ESPN gets a commission on any sales driven through this link.
Lamar Jackson not only plays in December but goes undefeated in the month. Jackson has been unable to finish the past two seasons because of an ankle injury in 2021 and a knee injury last season. Now, with a five-year, $260 million extension, Jackson will get back to dominating in December, when he is 13-3 (.813) in his career. That's the third-best record in December since 2018 behind Patrick Mahomes (19-3) and Aaron Rodgers (17-3). It won't be easy for Jackson because Baltimore plays three straight games against 2022 playoff teams (at Jacksonville, at San Francisco and home against Miami) in that month. Read more from Jamison Hensley

The Bengals go undefeated in prime-time games in 2023. That's a tall order considering the Bengals have a road game at Baltimore and a home game against Buffalo on the calendar. But Cincinnati has had strong performances on the national stage since 2020 and has been a team that embraces the spotlight. Read more from Ben Baby

Until last season's last-second comeback over Carolina, the Browns hadn't won a season opener since 2004. While the Bengals remain formidable, Cleveland has largely had Cincinnati's number, especially at home, even since Joe Burrow took over at quarterback. The Browns will win back-to-back season openers for the first time since the 1993-94 seasons. Read more from Jake Trotter
The Steelers win all three West Coast games — at Las Vegas, at L.A. Rams, at Seattle. After a 2022 season in which the Steelers didn't leave Eastern Standard Time, they're going to put in 16,525 miles in 2023. But even if they're playing far from home, the Steelers fan base travels notoriously well and has a history of taking over West Coast venues, giving the road team a rare edge. Read more from Brooke Pryor
AFC SOUTH
After concluding the 2022 season with a 3-13-1 record, the Texans will win at least six games in 2023. The Texans added more talent to their offensive line, defensive line and quarterback room this offseason. Their chances to surpass last year's win total are bolstered by games against three teams projected to win fewer than seven games: the Tampa Bay Buccaneers, Colts and Cardinals. Read more from DJ Bien-Aime
Expectations are low, but don't be surprised if the Colts manage to get to .500 at their bye week given the teams on the early part of their schedule. The familiarity with their division foes will certainly level the playing field in those matchups. Then, there's the possibility that the presence of rookie quarterback Anthony Richardson gives the Colts some offensive advantages in that teams have not yet seen the design of their offensive attack. Teams will eventually adjust, but the Colts think they might have an upper hand early on. Read more from Stephen Holder
The Jaguars will sweep the AFC South for the first time in franchise history. The Jaguars haven't won more than four division games since the AFC South's inception in 2002 but have added WR Calvin Ridley to an offense that ranked 10th in scoring and yards. And quarterback Trevor Lawrence is expected to be even better in his second season with coach Doug Pederson. Remember, Pederson turned Carson Wentz into an MVP candidate in their second season together. Plus, all three division opponents drafted QBs in the first or second round, and all three could be the starters at some point this season. Read more from Mike DiRocco
The Titans entered last season having finished as the top seed in the AFC, which led to five prime-time appearances in 2022. Tennessee failed to make the playoffs last season and now has only two prime-time games on the schedule this year. That is the lowest amount in a single-season since 2019, when they appeared in only one prime-time game. Read more from Turron Davenport
AFC WEST
The Broncos, somehow, someway end their losing streak against the Chiefs. At some point the Chiefs have to get bored, don't they? Former interim coach Jerry Rosburg almost pulled it off in Week 17 last year with a team that had 22 players on injured reserve. The Broncos haven't defeated the Chiefs since Sept. 17, 2015, in Arrowhead Stadium when Peyton Manning was at quarterback. Kansas City has won the past 15 games between the two teams. Read more from Jeff Legwold
In coach Andy Reid's 10 years, the Chiefs have a season-opening win streak of nine games, two of five games and two of four games. They will have another similar start in 2023. If there's an extended soft part of the schedule, it's the first eight games, which brings only three matchups against 2022 playoff teams. A 3-0 start looks likely, and the Chiefs could easily be undefeated heading into a Week 7 game against the Chargers. Read more from Adam Teicher
The Raiders, despite the tough start to the schedule and an unusually late bye week, will still be in the playoff hunt in December. Jimmy Garoppolo being a better fit for the offense at quarterback than Derek Carr will provide dividends, so long as Garoppolo stays healthy. All-Pros Davante Adams and Josh Jacobs are their usual brilliant selves at receiver and running back, respectively, and Tyree Wilson, Maxx Crosby and Chandler Jones will be disruptive to opposing quarterbacks. And Las Vegas, with three of its final four games against the AFC West, two of those games coming at home, will control its own destiny. Read more from Paul Gutierrez

The Chargers will enter their bye 4-0, with their Kellen Moore-directed offense stealing the attention of the NFL, and proving that this is the season to play to expectations. There will be some missteps along the way, but the Chargers will remain in the race for a division title, with the AFC West being decided in a Week 18 matchup against the Chiefs. Read more from Lindsey Thiry