After a busy first week to 2023 NFL free agency, the deals have started to slow down. Teams have added impact playmakers across their depth charts, though free agents like Odell Beckham Jr. and Bobby Wagner are still on the market. Notably, Orlando Brown Jr., Javon Hargrave, Jimmy Garoppolo and Jessie Bates III have found new homes. Some teams made a lot of noise with top-dollar additions, while others focused on value signings.
What are the most striking bargain signings? What about the best and worst deals? And which teams have already gotten a lot better this offseason? Our NFL experts are weighing in on what we've seen in this offseason's free agency, starting with the top bargain deals of 2023.
Jump to a topic:
Bargain signings | Head-scratchers
Best moves | Most improved teams

What was the best bargain signing of free agency?
Stephania Bell, fantasy football analyst: RB Rashaad Penny to the Philadelphia Eagles. This is a great fit at a great price. Obviously Penny's injury history is a concern, and he's coming off a season that ended with a fibula fracture (he says he's fully healthy now), but that risk is baked into the contract price. Penny will not be required to increase his volume of work given the other backs around him, and he gets an upgrade in offensive line, potentially boosting that career 5.7 yards per carry average.
Matt Bowen, NFL analyst: DT Andrew Billings to the Chicago Bears. A proven, veteran run defender, Billings will play the nose guard spot in coach Matt Eberflus' system. And the Bears land a starter at a key spot on a cheap, one-year deal.
Editor's Picks
2 Related
Mike Clay, fantasy football writer: CB Byron Murphy Jr. to the Minnesota Vikings. Murphy is 25 years old and one of the league's most underrated and versatile corners. Landing him on a two-year, $22 million deal is a steal for a Vikings team that had a massive void at corner and needed value signings in order to offset several notable losses — including Patrick Peterson, Eric Kendricks and Dalvin Tomlinson.
Jeremy Fowler, national NFL writer: LB David Long Jr. to the Miami Dolphins. Though limited by injuries, Long was productive with 86 tackles and two interceptions in 12 games for Tennessee last season. Signing him at two years and $11 million is good business for Miami. Another sneaky good move I liked: Safety Damontae Kazee back to the Pittsburgh Steelers at two years, $6 million is solid.
Matt Miller, NFL draft analyst: DE Charles Omenihu to the Kansas City Chiefs. Omenihu comes in on a two-year deal worth $16 million and will fill the roster spot left by Frank Clark. Omenihu had 4.5 sacks in 2022 and gives the Chiefs big-time versatility up front.
Eric Moody, fantasy football writer: DE Samson Ebukam to the Indianapolis Colts. Last season with the 49ers, Ebukam posted career highs in sacks (five) and pass rush win rate (20.7%). The Colts' defense will benefit from Ebukam's technique and motor in 2023.
Jason Reid, senior Andscape writer: S Mike Edwards to the Kansas City Chiefs. The Chiefs got the former Buccaneers starter on a cheap, one-year deal, and he will be a great (and cost-effective) addition to the secondary. He had two interceptions and 82 tackles last season.
Jordan Reid, NFL draft analyst: Murphy to the Vikings. This secondary desperately needed a veteran presence after the exit of Peterson to the Steelers. Murphy brings versatility, physicality and experience to Minnesota's defense. And getting him on a two-year, $22 million deal is reasonable considering the traits he will bring as an immediate starter.
Mike Tannenbaum, NFL front office insider: Omenihu to the Chiefs. He is a young, ascending pass-rusher who comes to Kansas City for $16 million over two years. That's great value.
Seth Walder, sports analytics writer: Penny to the Eagles. He is a great bargain find. Over the past two seasons, Penny has averaged 1.8 yards over expectation per carry, according to NFL Next Gen Stats. That's huge. Sure, he's coming off a broken fibula that cut his 2022 season short, but on a cheap, one-year deal, he's easily worth it.
play
1:34
Orlando Brown Jr. 'fired up' to join Joe Burrow, Bengals
Orlando Brown Jr. shares his excitement about playing with Joe Burrow and talks about former teammate Lamar Jackson's franchise tag.
Seth Wickersham, NFL writer: OT Orlando Brown Jr. to the Cincinnati Bengals. Cincinnati got better protection for Joe Burrow, and it did so at Kansas City's expense.
Field Yates, NFL analyst: LB Drue Tranquill to the Kansas City Chiefs. Tranquill is coming off of clearly his best season, in which he made an impact all over the field. The Chiefs did not necessarily have a glaring need at linebacker, but their front office continues to stand out in finding players at varying price points to beef up a ready-to-repeat roster. Tranquill will really help.
What was the most head-scratching signing of free agency?
Bell: RB Miles Sanders to the Carolina Panthers. I'm always an advocate for running backs getting their money; they usually get shorted when it comes to second contracts, given how devalued their position is because of injury risk. But the Panthers let D'Onta Foreman walk after the best season of his career (914 yards rushing, despite Christian McCaffrey being on the same team until October) for a back on a more expensive contract. Sanders admittedly had a terrific season in 2023, rushing for more than 1,000 yards for the first time in his career, but he did so while staying fresh as part of a committee and playing behind the best offensive line in football.
Bowen: WR Adam Thielen to the Carolina Panthers. Thielen's best fit at this stage of his career might be in the slot — where he can use his savvy route-running traits — given his diminished vertical speed. And considering that role, I was surprised at the value of the contract here.
Follow NFL free agency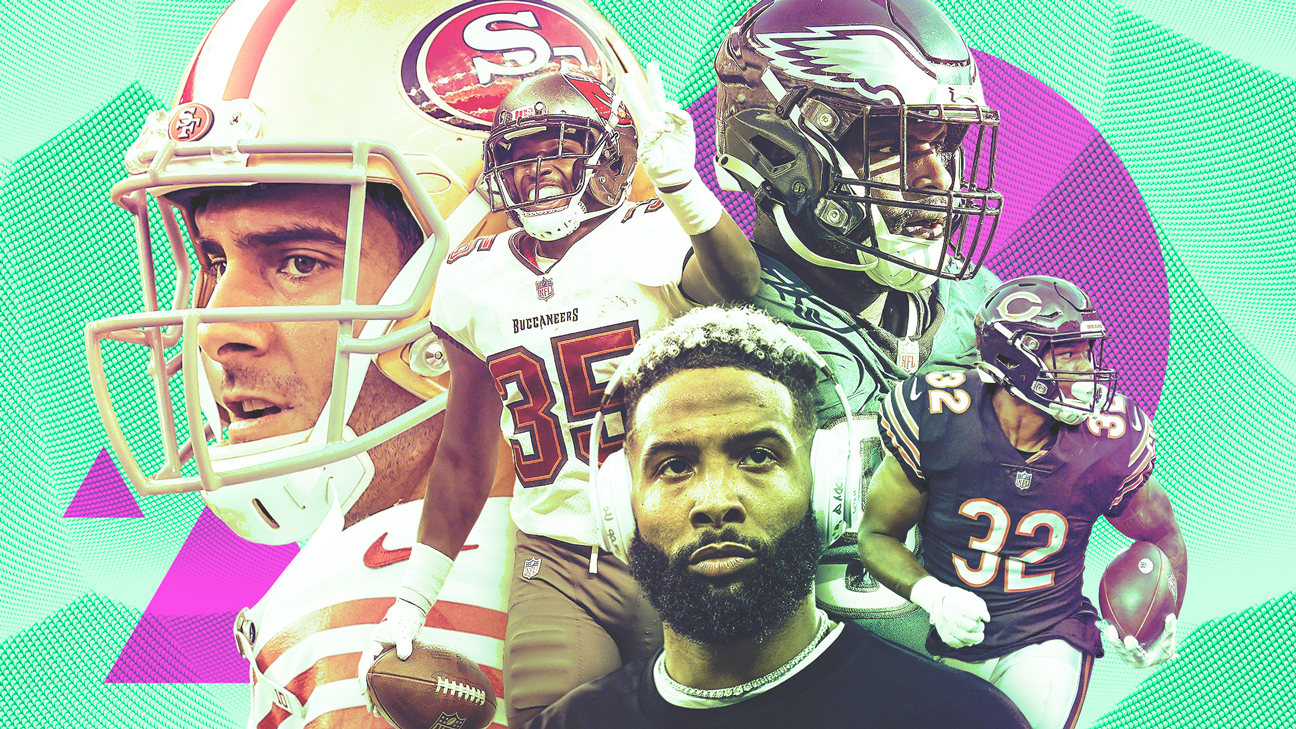 • Tracking signings, trades, cuts, buzz »
• Ranking top 100 » | Best remaining »
• Grading the biggest deals, trades »
More on free agency »
Clay: Whatever the Indianapolis Colts are doing. I just continue to scratch my head over Indianapolis' strategy. The Colts have swung and missed at QB every offseason, and their conservative and underwhelming approach to free agency has led to the roster getting worse. Even with a decent amount of cap space, Stephon Gilmore was traded away, Bobby Okereke and Parris Campbell both signed elsewhere and journeyman Samson Ebukam was easily their most impactful addition. The defense doesn't scare you, and the offensive line is no longer elite, so the front office is really banking on a home run at QB in the first round of April's draft.
Fowler: OT Mike McGlinchey to the Denver Broncos. It's hard to knock a team for securing quality offensive line help, but McGlinchey's contract ($87.5 million over five years) got a little steep, considering Atlanta signed Kaleb McGary — a comparable player — for a more reasonable three years and $34.5 million. The Broncos now have Garett Bolles, Ben Powers and McGlinchey making a combined $47.5 million per year on average.
Miller: Sanders to the Panthers. I like Sanders, but four years and $25 million is a lot for a running back not named Saquon Barkley. For context, Foreman rushed for 914 yards in Carolina last year and signed in Chicago for $3 million.
Moody: DE Marcus Davenport to the Minnesota Vikings. I'm not sure Davenport can provide the Vikings with the pass-rush help they desperately need. Over the past four seasons, his pressure percentage is 14.8%, ranking 10th among players with at least 800 pass-rush snaps, but he had just 0.5 sacks last season. And Davenport has dealt with numerous injuries over his career.
Jason Reid: Sanders to the Panthers. The Panthers guaranteed Sanders $13 million as part of his contract, and although Sanders is a good player, that's a lot of money for a running back.
play
0:53
Bruschi: JuJu Smith-Schuster better just be a start for Patriots
Tedy Bruschi weighs in on the Patriots' signing of JuJu Smith-Schuster to a three-year, $33 million deal.
Jordan Reid: WR JuJu Smith-Schuster to the New England Patriots. The Patriots needed wide receiver help, but with Jakobi Meyers getting an identical contract from the Raiders, why not just re-sign him? Smith-Schuster is coming off a productive season with the Chiefs, but Meyers is still the better player.
Tannenbaum: Smith-Schuster to the Patriots. While I like the player, I thought New England could have used more speed, rather than another possession receiver.
Walder: OT Jawaan Taylor to the Kansas City Chiefs. Taylor is a fine pass-protector, but he's not elite. Jaguars quarterback Trevor Lawrence's quick release made Taylor look better than he is last season. And Taylor is a weakness in the run game. If he plays left tackle, he's a downgrade from Orlando Brown Jr., but he's getting more money per year than Brown signed for in Cincinnati.
Wickersham: Whoever ends up paying a premium for WR Odell Beckham Jr. Yes, he can still be a sneakily effective target and decoy. Just ask coach Sean McVay, who had to change his game plan in Super Bowl LVI after Beckham's injury. But he's not the same player he was in 2016 and shouldn't be compensated like a top target at this point in his career.
Which was the best overall free agent signing?
Bell: DT Javon Hargrave to the San Francisco 49ers. You have to give the 49ers credit for absorbing the punishment Hargrave dished out in the NFC Championship Game and then signing him in free agency. The defense was already a force to be reckoned with, given the talents of Nick Bosa and Arik Armstead, but Hargrave secures the Niners as the best defensive line in the NFL and guarantees more problems for opposing offenses up the middle.
Bowen: DT Dre'Mont Jones to the Seattle Seahawks. The Seahawks filled a need by adding Jones. At 25 years old, Jones is an ascending player and has edge positional versatility. And we can see his disruptive ability as a pass-rusher on tape, as he recorded 6.5 sacks and 28 pressures last season.
Clay: DT Dalvin Tomlinson to the Cleveland Browns. He wasn't cheap to sign, but it seems like I've been picking on the Browns for their inability to solve defensive tackle for a decade and it was nice to see them prioritize the position this offseason. Tomlinson is one of the league's best interior defensive linemen and will take some pressure off superstar defensive end Myles Garrett and fellow newcomer Ogbonnia Okoronkwo on the edge.
Fowler: Tomlinson to the Browns. Cleveland desperately needed ruggedness in the middle of its maligned defense. It had to overpay to secure that, but Tomlinson (four years, $57 million) is coming off an impressive season for Minnesota. He seems to be improving at age 29, too. Garrett gets help up front with Tomlinson and Okoronkwo.
Top stories of the week from
Get exclusive access to more than 3,000 premium articles a year from top writers.
• Meet baseball's next great ace »
• Sabonis, Fox and the rise of the Kings »
• Kiper's post-free agency mock draft »
More ESPN+ content »
Miller: Hargrave to the 49ers. The rich get richer, and the defensive line in San Francisco is the league's best with Hargrave joining Bosa and Armstead up front. With one of the league's most explosive offenses, the 49ers' defense is now poised to tee off on opposing quarterbacks when teams are forced to throw to win.
Moody: OT Jawaan Taylor to the Kansas City Chiefs. The soon-to-be 25-year-old is entering his prime and expected to play left tackle for Kansas City. The Chiefs will probably address the right side of their offensive line at next month's draft, but providing the top quarterback in the game blindside protection is never a bad idea. Taylor was one of the best tackles available on the market.
Jason Reid: Hargrave to the 49ers. Talk about adding to an area of strength. It seems downright unfair that the 49ers were able to significantly bolster one of the league's best defensive fronts — which already featured Bosa and Armstead — but that's exactly what they did.
Jordan Reid: Hargrave to the 49ers. After struggles from Javon Kinlaw, San Francisco quickly pivoted to find another solution up the middle. Pairing Hargrave with Armstead and Bosa gives the 49ers one of the best defensive fronts in the NFL, and he will provide an anchor up front and produce constant pressure from the interior.
Tannenbaum: OT Orlando Brown Jr. to the Cincinnati Bengals. Jonah Williams struggled at left tackle, and quarterback Joe Burrow was sacked 41 times last season. While Brown isn't elite, he's a very good pass-blocker and will help. The Bengals absolutely improved Burrow's blind side with this move.
play
1:16
Does Jimmy G raise expectations for the Raiders in the AFC West?
Louis Riddick breaks down how the addition of Jimmy Garoppolo and Jakobi Meyers sets higher expectations for the Raiders in a loaded AFC West.
Walder: WR Jakobi Meyers to the Las Vegas Raiders. Meyers is a good receiver who has shown an excellent ability to get open — in a Josh McDaniels offense in New England, no less. To get him for a mere $11 million per year is an absolute bargain considering the way wide receivers have gotten paid over the past 12 months.
Wickersham: Hargrave to the 49ers. San Francisco got even deeper and more talented at a key position. And not only can the Niners potentially make a Super Bowl run, they also hurt a main rival (Philadelphia, Hargrave's old team) with the signing in the process.
Yates: QB Geno Smith to the Seattle Seahawks. While it's a re-signing and not a new addition, I thought Seattle did a wonderful job of finding a deal that provided Smith with a dramatic boost in salary but also one that was reflective of a player who had been an above-average starter for just one season. It was fair for both sides.
What is the most improved team after the past week of moves?
Bell: Miami Dolphins. The Dolphins said goodbye to cornerback Byron Jones (who missed all of 2022 while recovering from Achilles surgery) and added six-time Pro Bowler Jalen Ramsey to play alongside Xavien Howard. Couple that upgrade with the very reasonably priced re-signings of running backs Raheem Mostert and Jeff Wilson Jr. — two Mike McDaniels disciples from their 49ers days who have proven adept at jointly executing his brand of offense — and the Dolphins have fared nicely.
Bowen: Cleveland Browns. The Browns made some savvy moves to upgrade their defense. Edge rusher Ogbonnia Okoronkwo and defensive tackle Dalvin Tomlinson bolster the Cleveland front, and safety Juan Thornhill brings much-needed post range and ball skills to the Cleveland secondary.
Clay: Dolphins. They already had a pretty good core in place, but the Dolphins' additions of Ramsey, David Long Jr. and DeShon Elliott position defensive coordinator Vic Fangio with arguably the league's best unit on paper. The offense didn't require much work, so if quarterback Tua Tagovailoa is healthy and continues to play well — he was third in QBR in 2022 — Miami could emerge as a real threat next season.
Fowler: Carolina Panthers. Carolina committed $116.75 million in free agent contracts, with $70 million in guarantees, in Week 1 of free agency. It filled several defensive holes, from safety Vonn Bell to defensive tackle Shy Tuttle, while also adding firepower for whoever ends up being the new quarterback with tight end Hayden Hurst and running back Miles Sanders. Andy Dalton is the perfect backstop QB for a young draft pick, too. He can win games but is not threatening to a rookie.
What to know for the 2023 NFL draft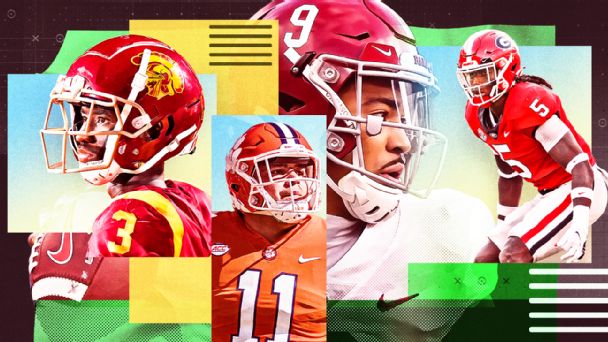 Ranks: Kiper | McShay | Positional
Mocks: Kiper | McShay | Miller | Reid
• Combine risers » | Most polarizing »
• QB Hot Board » | First-round grades »
• Scouting reports » | Order » | More »
Miller: New England Patriots. Going from Matt Patricia/Joe Judge to Bill O'Brien at offensive coordinator was by itself a big enough move to warrant inclusion. But pass-catchers JuJu Smith-Schuster and Mike Gesicki are also huge additions to boost the play of third-year quarterback Mac Jones.
Moody: Dallas Cowboys. The Cowboys are much improved, especially on defense after trading for cornerback Stephon Gilmore, who will be paired with Trevon Diggs. In addition, Dallas brought back linebacker Leighton Vander Esch and safety Donovan Wilson, keeping the defense intact for next year. It also released running back Ezekiel Elliott, so it can pair Tony Pollard with another back and lean more on Pollard. Wide receiver Brandin Cooks is Dallas' biggest offensive addition, giving the Cowboys another vertical threat and a great complement to CeeDee Lamb.
Jason Reid: Chicago Bears. General manager Ryan Poles entered the offseason with a whole lot of cap space, the No. 1 overall pick in next month's NFL draft and a plan to upgrade a roster with canyon-sized holes. Poles made many cost-efficient moves to sign veterans who should provide the Bears with a significant boost next season. And in their trade with the Panthers, the Bears acquired productive wide receiver DJ Moore (and a haul of picks). He is exactly the type of wideout that young quarterback Justin Fields needs to take the next step in his development.
Jordan Reid: Browns. The Browns had major holes along the defensive line and at safety. Tomlinson, one of the top defensive free agents on the open market, was the team's marquee signing. The former Vikings interior defender is exactly what the Browns needed, as the middle of their defense struggled mightily last season. Okoronkwo brings more pressure off of the edge and a lot of versatility. And signing Thornhill following the release of John Johnson III was a swap for a better player and one that better fits the free safety role in new defensive coordinator Jim Schwartz's scheme.
Tannenbaum: Denver Broncos. When you factor in the hiring of coach Sean Payton and the signings of guard Ben Powers and offensive tackle Mike McGlinchey, this sets up the best-case scenario for any hope of success for quarterback Russell Wilson. Having offensive tackle Garett Bolles and running back Javonte Williams return from injury will also go a long way.
Walder: Dolphins. I was already bullish on the Dolphins' defense once Vic Fangio came aboard to be the defensive coordinator. But after they added Ramsey to play opposite Howard at cornerback and Long to play linebacker up the middle, I think the defense could be a serious strength. That's remarkable because, when healthy, the Dolphins' offense also can be a serious strength.
play
2:34
Stephen A.: Aaron Rodgers can make the Jets Super Bowl contenders
Stephen A. Smith says the New York Jets need to act now in their pursuit of Aaron Rodgers.
Wickersham: New York Jets. Even though the Aaron Rodgers trade has yet to be worked out, they're going from a young struggling quarterback to one of the top 10 quarterbacks of all time — and one with a major point to prove.
Yates: Bears. They entered the free agency period with more resources to use than any other team but still managed to thread an important needle: They added a ton of talent without spending above market value on said players. And when you factor in the trade down from pick No. 1, the Bears also added a top-20 wide receiver to their roster in Moore.