Turron Davenport, ESPNOct 28, 2023, 06:00 AM ET

Close

Turron Davenport covers the Tennessee Titans for ESPN. Turron is a former collegiate football player at Cheyney University and is a native of Philadelphia, and he has authored/co-authored four books. You can catch Turron on ESPN Radio on his show "Talking with TD" and you can follow him on Twitter: @TDavenport_NFL.
NASHVILLE, Tenn. — From 2019 to 2021, Derrick Henry's run with the Tennessee Titans put him firmly in the Pro Football Hall of Fame discussion.
Henry was first in rushing yards (4,504), rushing touchdowns (59) and carries of 40 or more yards (14) over that span.
This year, Henry's 425 yards in six games is below his typical pace, but he's one of the league's few remaining feature backs, like rookie Bijan Robinson, who will be on the field Sunday with Henry when the Atlanta Falcons travel to the Titans (1 p.m. ET, CBS) at Nissan Stadium. While Henry is in the back end of an illustrious career, could Robinson be the next great candidate to make a run at the Hall of Fame in Canton, Ohio, and be a perennial threat to win the rushing crown?
"What he's done on the field, that dude has been one of the top five most dominant running backs in the decade," Robinson told ESPN. "Ever since I was in middle school, high school, he's been the guy."
In Year 4, Henry led the NFL in rushing for the first time when he gained 1,540 yards in 2019. He followed that up with 2,025 yards in 2020, the fifth-best single-season rushing total ever.
Henry's contract with Tennessee expires after the season. His 8,574 yards ranks behind Eddie George's franchise-leading 10,009 and makes him the leading active rusher in the league. If Henry continues at his current pace next season, he could be the 32nd running back to reach 10,000 rushing yards and become Tennessee's all-time leading rusher — if he reaches a deal to remain with the Titans.
Eligible running backs not in HOF
| | YDS | YPC | TDs | YRS |
| --- | --- | --- | --- | --- |
| Fred Taylor | 11,695 | 4.6 | 66 | 1998-2010 |
| Steven Jackson | 11,438 | 4.1 | 69 | 2004-2015 |
| Corey Dillon | 11,241 | 4.3 | 82 | 1997-2006 |
| Warrick Dunn | 10,967 | 4.1 | 49 | 1997-2008 |
| Ricky Watters | 10,643 | 4.1 | 78 | 1992-2001 |
Active leading rushers
| | YDS | YPC | TDs | Drafted |
| --- | --- | --- | --- | --- |
| Derrick Henry | 8,760 | 4.7 | 81 | 2016 |
| Ezekiel Elliott | 8,486 | 4.4 | 70 | 2016 |
| Melvin Gordon | 6,515 | 4.1 | 55 | 2015 |
| Nick Chubb | 6,511 | 5.3 | 48 | 2018 |
| Latavius Murray | 6,388 | 4.2 | 57 | 2013 |
George, who is now the coach at nearby Tennessee State, was one of 26 semifinalists in 2022 to be inducted into the Hall of Fame. He has 10,441 career rushing yards and ranks 28th all time.
The 1995 Heisman Trophy winner first met Henry when he won the Heisman in 2015 at Alabama. The two remained in contact when Henry was drafted by the Titans with the No. 45 pick in 2016. Henry credits a conversation with George in 2018 as a catalyst for his career takeoff.
George said that stretch has led to a Hall of Fame-worthy career.
"Look at his body of work," George said. "He's an ambassador of the league, led the NFL in rushing. In a passing league, he's had an impact. It's not a running back league anymore, but the Titans' offense ran through him. When you think about his era, who else can you say from his era belongs in the conversation?"
HEADING INTO THE draft, Robinson was considered a generational talent because of his ability to impact games by more than just running the ball.
"Robinson does everything," ESPN senior draft analyst Mel Kiper Jr. said before the draft. "He runs inside, he runs outside, he catches passes and scores a lot of touchdowns."
The Falcons selected Robinson with the No. 8 pick and immediately made him the focal point of the rushing attack despite Tyler Allgeier's emergence as a rookie last season. Robinson was the highest running back selection since 2018, when the New York Giants picked Saquon Barkley at No. 2.
Through the first six games, Robinson had 401 rushing yards and was averaging 5.0 yards per carry. In Week 7, he was suffering from headaches and was limited to 11 snaps and one touch — a 3-yard run.
The Falcons have taken advantage of Robinson's versatility by getting him the ball in the passing game. Robinson has caught 26 passes, including two touchdown receptions, this season.
"God willing, I can be in the Hall of Fame one day," Robinson told ESPN. "You got to be in the right system and they got to use you the right way to be in those talks and those categories, and your team has to trust you to do a lot of different things in order to be in that caliber."
The Atlanta Falcons made Bijan Robinson the highest running back selected (No. 8) since 2018, when the New York Giants picked Saquon Barkley with the No. 2 pick. Todd Kirkland/Getty Images
Robinson has a coach in Arthur Smith, who was offensive coordinator for the Titans during Henry's run to dominance, who can help his cause.
"He's a special running back that can do it all," Henry said Tuesday. "He was a great player in college. He's as good as advertised, if not even better."
As for Henry, he has led the NFL in rushing attempts in three of the past four seasons, but he has had 20 rushing attempts just twice this season and ranks eighth overall, as the Titans are searching for ways to also get rookie Tyjae Spears touches.
"We have to continue to work Tyjae in there," coach Mike Vrabel said, "and he has to have touches because when he gets it and catches it or we hand it to him, he's been able to do some really good things with it."
DESPITE 3,095 YARDS after contact, the most among running backs since 2019 according to ESPN Stats & Information, Henry doesn't like to shine light on himself; instead, he deflects all credit for his accomplishments to the offensive line.
"They're the reason why I have success," Henry said. "Without them, we don't get the play started — those guys up front with the tight ends, fullbacks and receivers blocking — and I have no success."
Best of NFL Nation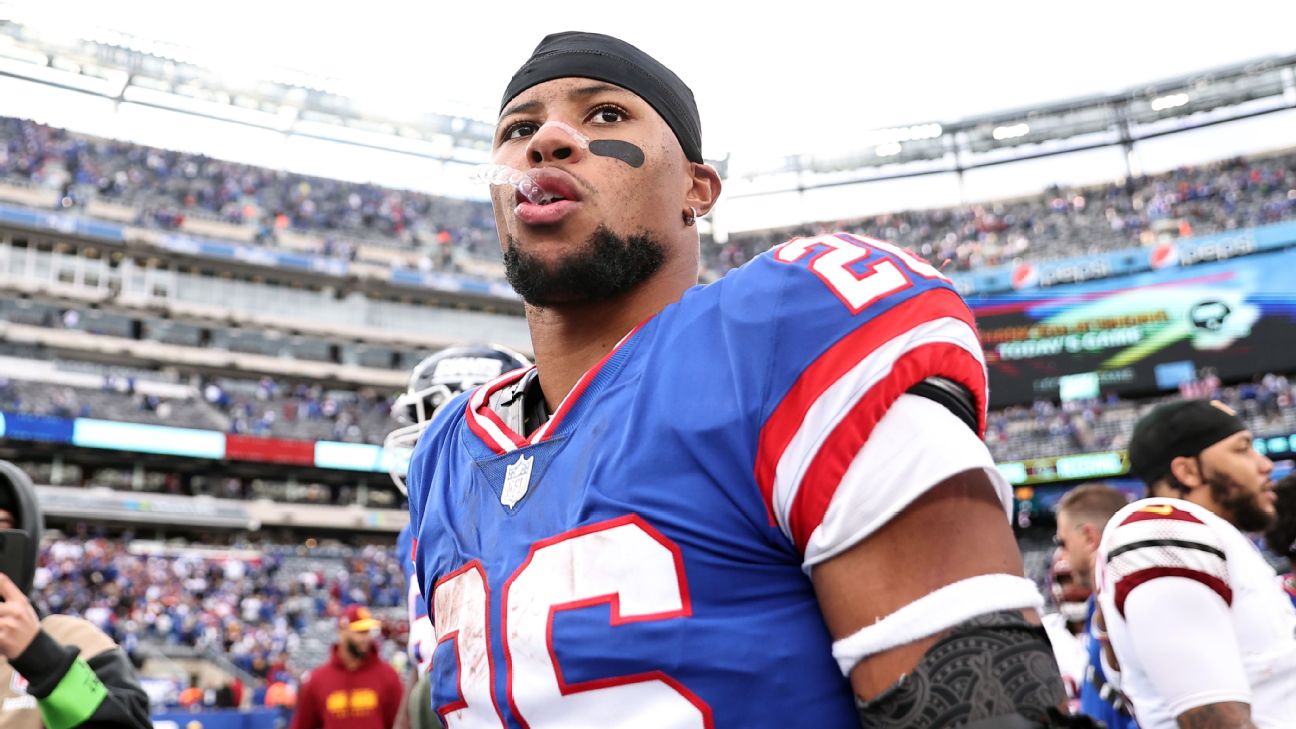 • Barkley has no regrets about contract
• Watt carrying on Harrison's legacy
• Carr says Olave in a good place
• Raiders' offense looks for answers
• 6 stories illustrate Denver-KC dynamic
• How has Jets coach looked over 40 games?
Former Titans center Ben Jones called Henry the nucleus of the teams that won AFC South division titles in 2020 and 2021.
"Everyone knew we wanted to run the ball," Jones told ESPN. "We got him to the second level and he did the rest. He is the best back in the NFL, especially in the latter part of the season. He wants to be perfect on everything. He cares so much. When you have a running back who cares that much, you do everything possible. It makes you better as an offensive lineman."
In 2021, Henry was on pace to win a third consecutive rushing title and record his second 2,000-yard season, but he suffered a Jones fracture in his right foot that forced him to miss the last nine games of the regular season. Henry's 937 yards still ranked ninth for the season, and he bounced back by finishing second last season with 1,538 rushing yards.
Gaining 2,000 or more rushing yards in one season would seem like it's a qualifier for the Hall of Fame, and no one has done it more than once. Only eight running backs have hit that mark, but is that enough to get voted in?
Of the eight, O.J. Simpson, Eric Dickerson, Barry Sanders and Terrell Davis have been inducted. Chris Johnson and Jamal Lewis are eligible but have yet to make it. Henry and Adrian Peterson are the other two, but they won't be eligible until they are five years removed from playing.
2,000-yard rushers
| | YDS | YR | GMS | TDs |
| --- | --- | --- | --- | --- |
| Eric Dickerson | 2,105 | 1984 | 16 | 14 |
| Adrian Peterson | 2,097 | 2012 | 16 | 12 |
| Jamal Lewis | 2,066 | 2003 | 16 | 14 |
| Barry Sanders | 2,035 | 1997 | 16 | 11 |
| Derrick Henry | 2,027 | 2020 | 16 | 17 |
| Terrell Davis | 2,008 | 1998 | 16 | 21 |
| Chris Johnson | 2,006 | 2009 | 16 | 14 |
| O.J. Simpson | 2,003 | 1973 | 14 | 12 |
When asked which active running back has the best chance to make the Hall of Fame, Lewis — who played for the Cleveland Browns and Baltimore Ravens — acknowledged Henry. But he pointed out that Spears' increasing role this season, especially on third downs, could continue to cut into Henry's production.
San Francisco 49ers running back Christian McCaffrey, who leads the NFL in rushing with 598 yards, is another player Lewis pointed to.
"There's more opportunity for him to make plays," Lewis told ESPN. "He's not coming off for third down. He's still going to be in the game for first, second down. The Hall of Fame is all about a person that changes the game, and I think that McCaffrey is one of those game-changers in just his style and how he operates."
At 27 years old, McCaffrey hasn't shown any signs of slowing down outside of injuries. In 2019, McCaffrey joined former 49ers running back Roger Craig and Rams Hall of Famer Marshall Faulk as the only running backs to post 1,000-yard receiving seasons. But despite how dynamic he is in the passing game (3,984 receiving yards), he has only 5,324 rushing yards.
When asked about Robinson, Lewis described him as a "very elusive back" who could have opportunities in Atlanta if the Falcons continue to feature him.
"He's going to be a force to be reckoned with," Lewis told ESPN. "One of those guys that I look at and say, 'He's a game-changer, and he'll have a bright future.'"
Vrabel praised Robinson's receiving ability and has taken notice of how the Falcons have built in concepts to showcase his talent.
"Sometimes he'll run a one-step dart route and run through the catch and keep going," Vrabel said. "That isn't easy for anybody, let alone a running back. He's really explosive and smooth, got great balance and good vision."
Tennessee Titans running back Derrick Henry is currently the NFL's active rushing leader with 8,760 yards since entering the league in 2016. Peter van den Berg/USA TODAY Sports
HENRY TURNS 30 during the final week of the season in January, but when given the opportunity he still has shown flashes of dominance.
At 6-foot-3, 247 pounds, Henry has reached 20 mph when running the ball this season, including during a 63-yard run against the Ravens on which he almost hit 21 mph.
Follow the NFL all season long


• Full schedule » | Standings »
• Depth charts for every team »
• Transactions » | Injuries »
• Football Power Index »
More NFL coverage »
According to ESPN Stats & Information, there are 52 players in the Hall of Fame listed as halfback, fullback, tailback or running back. Of those players, 16 have rushed for 10,000 or more yards — which includes all four 2,000-yard rushers — and the average career yardage for Hall of Fame running backs is 10,991 yards.
Henry is tied for 19th all-time in rushing touchdowns at 81, and the average for Hall of Fame running backs is 86. At his current pace (three touchdowns in six games), he would finish the season ranked 15th with 87.
Seattle Seahawks running back Shaun Alexander's 100 rushing touchdowns leads all running backs who are not in the Hall of Fame and are eligible. Given Henry's pace, he could eclipse that, but he knows there's more to accomplish.
He said it's a blessing to be considered one of the best running backs of his era and flashed a big smile Tuesday when told Robinson thinks he's one the game's best.
"I want to be the greatest ever to play my position," Henry said during training camp. "One of the best to ever play the game, hopefully, a Hall of Famer."
ESPN NFL reporter Michael Rothstein contributed to this article.