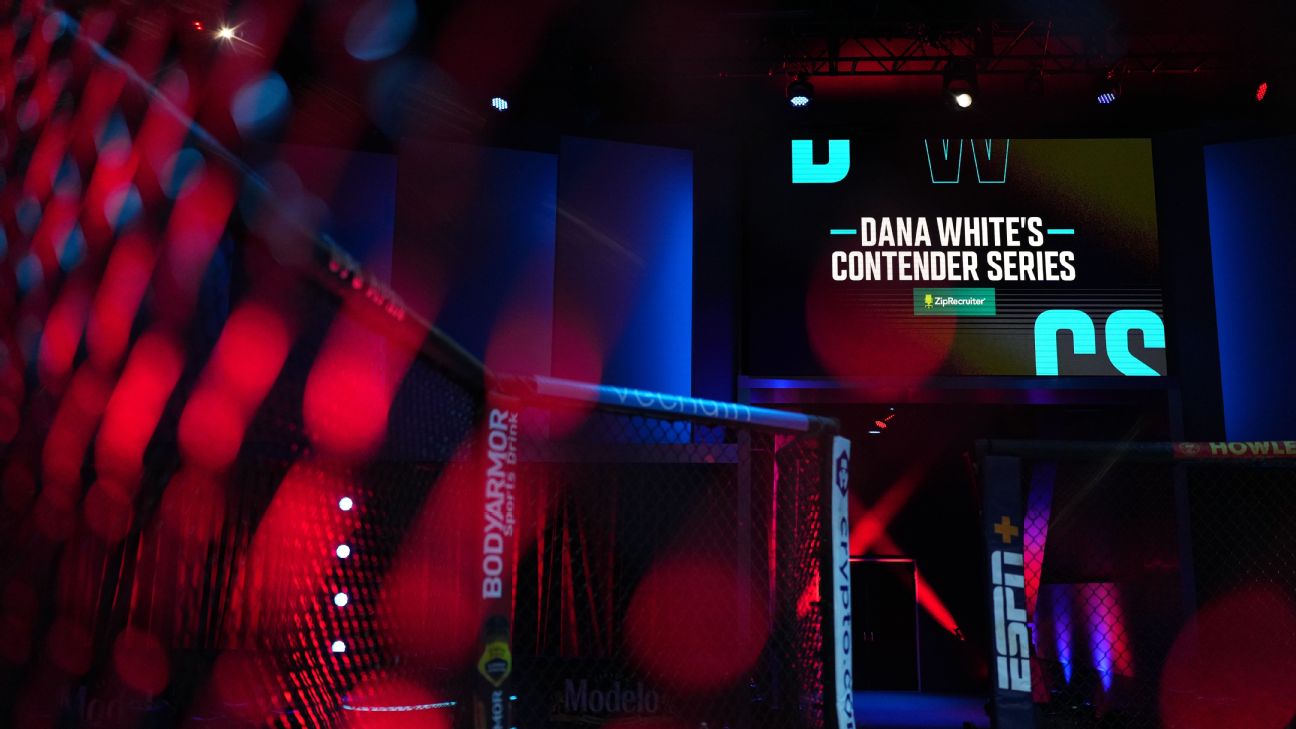 Sep 19, 2023, 10:15 PM ET
"Dana White's Contender Series," which is in Season 7, has been the path for many of the talented fighters on the UFC's roster today, including UFC men's bantamweight champion "Suga" Sean O'Malley, former light heavyweight champion Jamahal Hill and men's flyweight Alex Perez and women's flyweight Taila Santos, who fought for titles in 2020 and 2022, respectively.
Some of the top signees from Season 6 have already had success inside the Octagon. Joe Pyfer, who famously was the only fighter to get signed during Week 1 last year, has scored first-round knockouts against each of his two opponents in the UFC. Cameron Saaiman, who is undefeated, is 3-0 inside the Octagon. Gabriel Bonfim has notched back-to-back first-round submission wins. And the biggest star of the season, Bo Nickal, who is widely recognized as the top prospect in the sport, has finished his two UFC opponents in the first round. One of those wins came via submission and the other came via knockout.
Beyond last season and title fights, marquee names like Jailton Almeida, Jack Della Maddalena, Kevin Holland, Ryan Spann, Marina Rodriguez and Jalin Turner are also ranked and primed for bigger and better going forward. With the show's history of finding the next generation of the UFC's top talent, why would anyone think Season 7 would be any different?
Week 1 kicked off the season with each of the five winners earning a UFC contract. In all, there are 10 weekly fight cards at UFC Apex in Las Vegas, airing on Tuesday nights (ESPN+, 8 p.m. ET). The final card takes place Oct. 10. Here's a look at the results and the upcoming fights for this season of DWCS.
O'Malley? Nickal? Almeida? Which DWCS alum has the brightest future?
'Dana White's Contender Series' Season 7 matchups:
Week 1 results:
*Middleweight: Cesar Almeida def. Lucas Fernando by unanimous decision
*Lightweight: Tom Nolan def. Bogdan Grad by KO
*Heavyweight: Caio Machado def. Kevin Szaflarski by unanimous decision
*Bantamweight: Payton Talbott def. Reyes Cortez Jr. by unanimous decision
*Flyweight: Kevin Borjas def. Victor Dias unanimous decision
*Almeida, Nolan, Machado, Talbott, and Borjas were each awarded a UFC contract
Week 2 results:
*Lightweight: Abdul-Kareem Al-Selwady def. George Hardwick by unanimous decision
*Light heavyweight: Ibo Aslan def. Paulo Renato Junior by KO
*Featherweight: Hyder Amil def. Emrah Sonmez by unanimous decision
*Women's strawweight: Eduarda Moura def. Janaina Silva by submission
*Men's bantamweight: Charalampos Grigoriou def. Cameron Smotherman by TKO
*Al-Selwady, Aslan, Amil, Moura and Grigoriou were each awarded a UFC contract
Week 3 results:
*Middleweight: Zach Reese def. Eli Aronov by submission
*Welterweight: Oban Elliott def. Kaik Brito by majority decision
Women's strawweight: Josefine Knutsson def. Isis Verbeek by unanimous decision
*Featherweight: Luis Pajuelo def. Robbie Ring by TKO
*Reese, Elliott, and Pajuelo were each awarded a UFC contract
Week 4 results:
*Welterweight: Carlos Prates def. Mitch Ramirez by KO
Middleweight: Marco Tulio def. Yousri Belgaroui by unanimous decision
Men's featherweight: Timothy Cuamba def. Mateo Vogel by unanimous decision
*Heavyweight: Thomas Petersen def. Chandler Cole by submission
*Lightweight: Bolaji Oki def. Dylan Salvador by TKO
*Prates, Peterson and Oki were each awarded a UFC contract
Week 5 results:
*Light heavyweight: Brendson Ribeiro def. Bruno Lopes by KO
*Men's bantamweight: Serhiy Sidey def. Ramon Taveras by TKO
*Middleweight: Dylan Budka def. Chad Hanekom by unanimous decision
*Men's featherweight: Jean Silva def. Kevin Vallejos by unanimous decision
*Women's flyweight: Dione Barbosa def. Raine Guerrero by submission
*Dana White awarded UFC contracts to Ribeiro, Silva, Barbosa, Budka and Sidey
+Ramon Taveras will get another chance in Episode 10
Week 6 results:
*Lightweight: James Llontop def. Malik Lewis by unanimous decision
*Men's featherweight: Steven Nguyen def. AJ Cunningham by TKO
*Men's bantamweight: Jean Matsumoto def. Kasey Tanner by unanimous decision
*Heavyweight: Jhonata Diniz def. Eduardo Neves by KO
*Women's strawweight: Julia Polastri def. Patricia Alujas by submission
*Matsumoto, Polastri, Nguyen, Diniz, and Llontop were each awarded a UFC contract
Week 7 results:
Lightweight: Dan Allen def. Jacobi Jones by unanimous decision
*Lightweight: Kaynan Kruschewsky def. Dylan Mantello by submission
*Men's flyweight: Igor da Silva def. Jhonata Silva by TKO
*Heavyweight: Shamil Gaziev def. Greg Velasco by submission
*Women's strawweight: Stephanie Luciano vs. Talita Alencar ends in a draw
*Luciano, Gaziev, da Silva, and Kruschewsky and were each awarded a UFC contract
Week 8 Matchups, Sep. 26:
Welterweight: Danny Barlow vs. Raheam Forest
Heavyweight: Alexander Soldatkin vs. Mario Piazzon
Featherweight: Angel Pacheco vs. Danny Silva
Men's bantamweight: Vinicius de Oliveira vs. Victor Madrigal
Women's flyweight: Carli Judice vs. Ernesta Karekaite
Week 9 Matchups, Oct. 3:
Light heavyweight: Murtaza Talha vs. Rodolfo Bellato
Men's bantamweight: Victor Hugo vs. Eduardo Matias Torres
Light heavyweight: Jose Medina vs. Magomed Gadzhiyasulov
Welterweight: Mauricio Ruffy vs. Raimond Magomedaliev
Men's flyweight: Davi Costa vs. Lucas Rocha
Week 10 Matchups, Oct. 10:
TBD