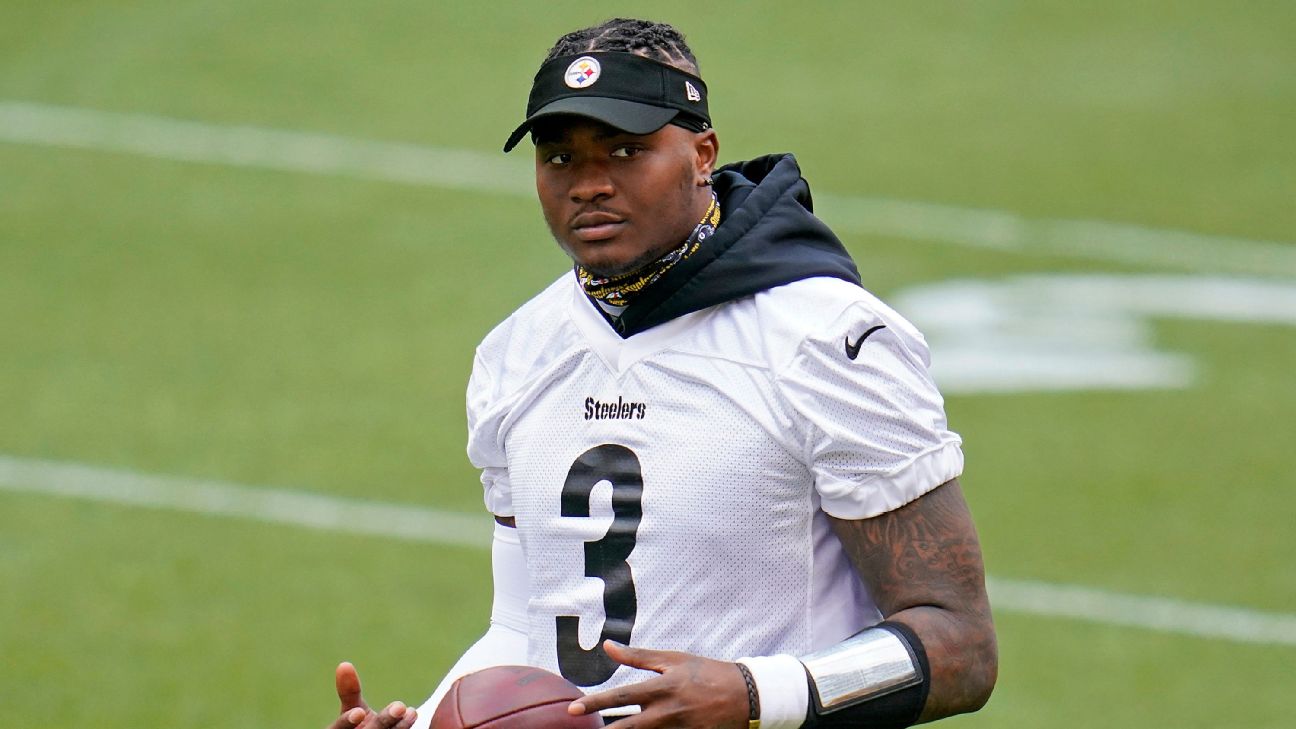 Dwayne Haskins was drugged on the night of his death as part of an alleged "blackmail and robbery conspiracy" against the former NFL quarterback, according to a lawsuit filed by his family.
The lawsuit, filed last month in Broward County, Florida, lists four individuals, two restaurants, a golf driving range and a hotel as defendants connected to the alleged conspiracy.
Haskins was killed April 9, 2022, after he was struck by a dump truck while he was walking on a South Florida highway. He was 24. The lawsuit also lists the driver of the truck as a defendant, citing his "negligent acts" as a direct cause of Haskins' death.
A statement released Monday by an attorney representing Haskins' family also mentioned the alleged conspiracy against Haskins and said the lawsuit "is an important step in the process of uncovering the complete truth about this tragedy."
"It is believed that Dwayne was targeted and drugged as part of a blackmail and robbery conspiracy," attorney Rick Ellsley said in the statement. "In fact, his highly-expensive watch was stolen from him shortly before his death."
Haskins' widow, Kalabrya Haskins, is listed in the lawsuit as the plaintiff and personal representative of Haskins' estate. She is seeking a jury trial and unspecified damages related to Haskins' death.
A toxicology report concluded Haskins was legally drunk when he was hit by the truck on I-595 in Florida. Separate samples taken from his body had blood alcohol levels of .20 and .24, both of which are above the legal limit in Florida of .08.
According to the toxicology report, Haskins also tested positive for ketamine and norketamine, drugs that are used by medical professionals as anesthetics but that also have been known to be used recreationally.
The medical examiner ruled Haskins' cause of death as multiple blunt force injuries and the manner of his death as an accident. No charges have been filed.
In 911 audio from the accident, Kalabrya Haskins told the dispatcher her husband called her early April 9 and said he was going to get out of his rental car to get gas and would call her back when he returned. She called 911 after she didn't hear back and requested dispatch check on him.
The final crash report released last year by the Florida Highway Patrol said Haskins was walking on the westbound side of I-595 when he entered into the travel lanes and into the path of the dump truck, which was traveling in the center lane. The front left of the truck struck Haskins.
The lawsuit alleges the driver of the dump truck was speeding, driving carelessly and had a cargo load exceeding the legal weight limit. The lawsuit also alleges negligence by the individual owner of the 1994 Kenworth truck, the driver's trucking company, the Florida Department of Transportation, the rental car company and the contractor that provides signage along I-595.
"The Florida Highway Patrol Traffic Homicide Report shows that Dwayne was only feet away from making it safely across the roadway when he was struck and killed by an old dump truck," Ellsley said in the statement. "… Many questions remain as to why the truck driver did not avoid hitting Dwayne given the highly visible activity in the area before the impact and the fact that the other drivers did not hit Dwayne."