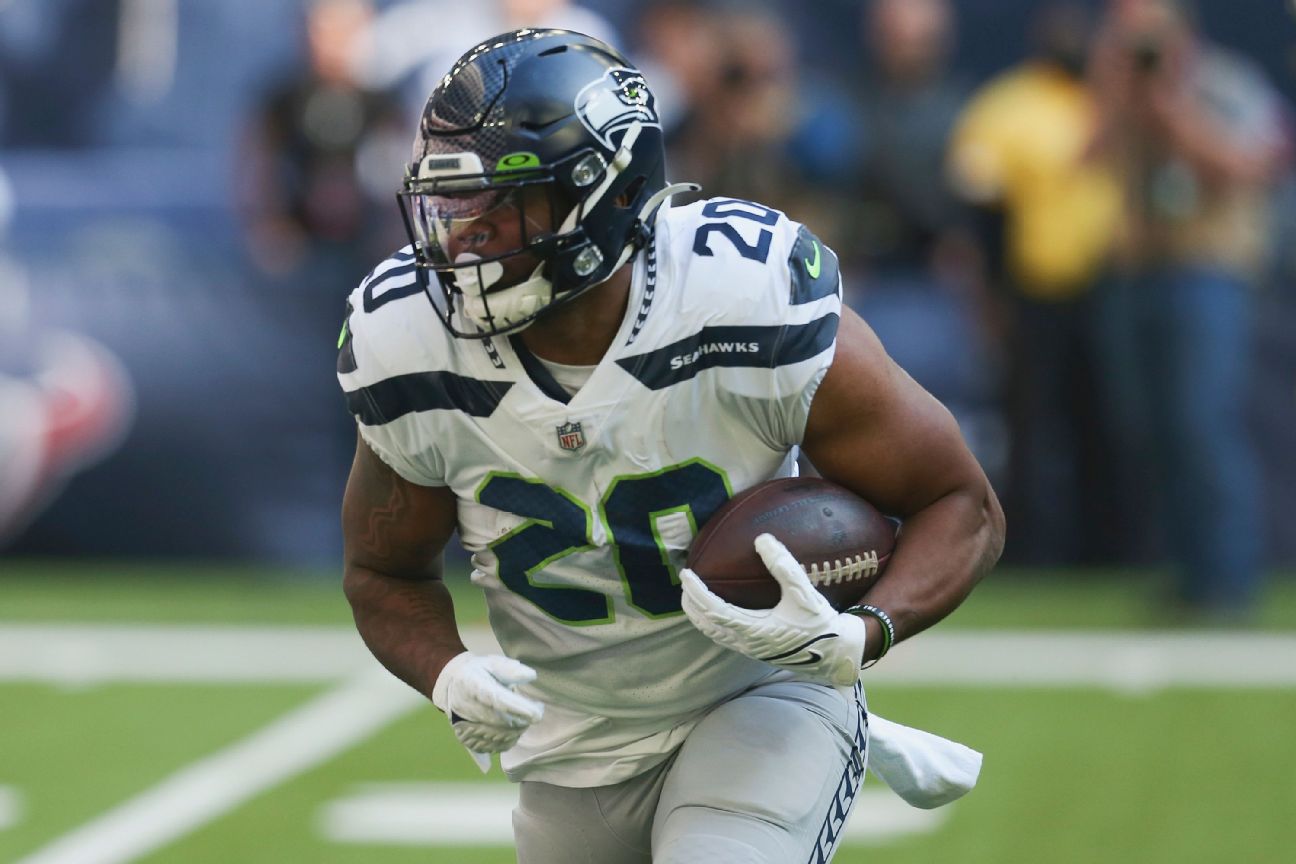 PHILADELPHIA — The Eagles have agreed to terms on a one-year deal with running back Rashaad Penny, a league source told ESPN, confirming multiple reports.
Miles Sanders has been the lead back in Philadelphia for the past four seasons, posting 3,708 rushing yards and 20 touchdowns over that stretch. Sanders is a free agent and is considered one of the top available players at his position this offseason.
Sanders signaled his time with the Eagles could be coming to an end, tweeting Tuesday afternoon: "To the city of Philadelphia: thank you from the bottom of my heart."
Productive rotational back Boston Scott, meanwhile, agreed to a one-year deal to return to the Eagles, a source confirmed to ESPN on Tuesday.
Editor's Picks
2 Related
The Penny signing does not mean the Eagles are necessarily done addressing the running back position, a source said.
Penny's career has been marred by injuries, including a broken leg last October that required surgery and forced him to miss the remainder of the 2022 season for the Seattle Seahawks.
Including playoffs, Penny, who turned 27 in February, has missed 43 of a possible 87 career games over his five NFL seasons because of injuries.
When healthy, Penny has shown his first-round talent — including one of the most prolific rushing stretches in franchise history to finish the 2021 season.
With starter Chris Carson on injured reserve, Penny led the NFL with 671 rushing yards over the final five games — 208 yards more than anyone else. Per ESPN Stats & Information research, he joined Shaun Alexander as the only players in Seahawks history with 130 rushing yards in three straight games. Penny topped that mark in four of the final five games, including a career-best 190 yards in the season finale. He scored six rushing touchdowns in that span, one more than he scored over his first 32 regular-season games.
Penny tested free agency and returned to Seattle in 2022 on a one-year deal worth $5.75 million. He began the season as the starter over rookie second-round pick Kenneth Walker III, rushing for 346 yards and two touchdowns on 57 carries over the first five games before he went down in Week 5, breaking the fibula and injuring the tibia on his left leg.
His long list of injuries also includes a torn ACL in December 2019 — just as he was starting to break out — that sidelined him for much of the 2020 season. He missed five games after hurting his calf in the 2021 opener and another game last November with a pulled hamstring.
The Seahawks drafted Penny 27th overall in 2018 out of San Diego State despite a preference among several members of the organization to select Nick Chubb. He spent most of his first four seasons backing up Carson.
Overall, he has 1,918 yards on 337 attempts — an average of 5.7 yards per carry — in 42 games over five seasons. He has scored 14 total touchdowns.
ESPN's Brady Henderson contributed to this report.