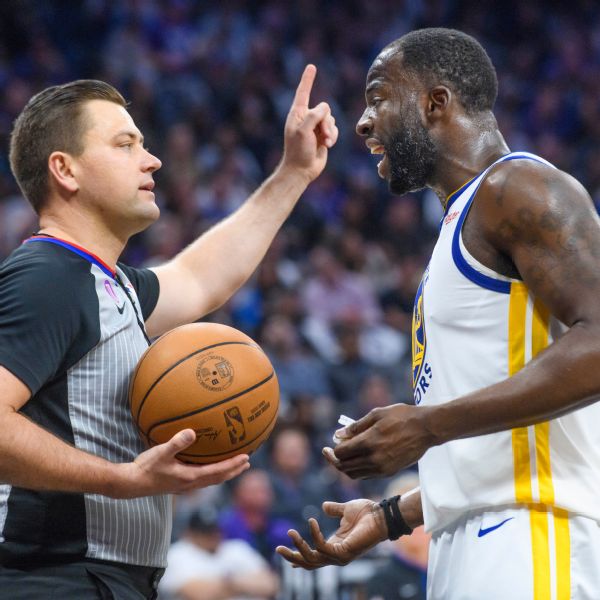 SACRAMENTO, Calif. — Golden State Warriors forward Draymond Green was ejected from a playoff game after stomping on the chest of Sacramento Kings forward Domantas Sabonis.
The play happened in the fourth quarter of Game 2 of the first-round playoff series Monday night after Stephen Curry grabbed a defensive rebound. The Kings won 114-106 to take a 2-0 series lead.
As Curry turned to head up the floor, Sabonis slipped and fell in the paint, grabbing Green's right leg. In an effort to perhaps break free and run down the court, Green landed his right foot squarely on Sabonis' chest. Sabonis stayed down for a few minutes as the officials reviewed the play.
Sabonis was called for a technical foul for grabbing Green's leg and Green was given a flagrant foul 2 that led to an automatic ejection.
"My leg got grabbed," Green said after the loss. "Second time in two nights. Referees just watch it."
"We're both fighting for the rebound," Sabonis said in his postgame interview on TNT. "We fell on each other. Stuff happens. It's basketball. We got to move on to the next play."
Editor's Picks
2 Related
Sources told ESPN's Adrian Wojnarowski that Sabonis was set to undergo further evaluation, including X-rays on his ribs and lungs, after the win.
"I didn't see the play live and then I didn't see the replay," Golden State coach Steve Kerr said. "I asked [official] Zach Zarba what happened, he told me, and I was busy with getting the team ready. One of the coaches told me he might get ejected and so I was trying to prepare for what was next."
During the review, the fans in Sacramento yelled derogatory chants toward Green, who egged them on by waving his hands, holding a hand to his ear calling for louder cheers and standing on a chair with a towel wrapped around his shoulders.
"I've got to land my foot somewhere," Green said. "And I'm not the most flexible person."
This isn't the first playoff infraction for Green, who got suspended for one game during the 2016 Finals after accumulating too many flagrant fouls in the playoffs that season.
The Associated Press contributed to this report.