Welcome to MLB Opening Day 2023!
After one of the most exciting preludes to a regular season in recent memory — from offseason chaos to players (and fans) learning baseball's new rules and enjoying shorter, faster paced games to an epic World Baseball Classic — it's time to play ball.
All 30 teams are in action today, starting with a pair of 1:05 p.m. ET contests in Washington, D.C. and the Bronx, where 21-year-old top shortstop prospect Anthony Volpe becomes the youngest player to start on Opening Day for the New York Yankees since Derek Jeter. Speaking of debuts, Jacob deGrom makes his for the Texas Rangers, who play at home against prized offseason acquisition Trea Turner and the defending National League champions Philadelphia Phillies (4:05 p.m. on ESPN+).
Later, Jose Abreu faces his former team, the Chicago White Sox, as the newest member of last year's World Series champion Houston Astros (7 p.m. on ESPN). It all leads up to the game's best player, Shohei Ohtani, taking the mound for the Los Angeles Angels in one of four West Coast night games to close things out.
In other words, we won't blame you for playing hooky.
What are we looking for as the season gets started? Our reporters give their pregame takes from the ballpark, plus we'll post lineups as they are announced and live updates throughout the day, including takeaways from each game as it concludes.
Season preview: How all 30 teams rank as baseball returns | Predictions
New rules: What you need to know |

Passan: Welcome to a new era
MLB Rank 2023: Who are baseball's 100 best players? |

Snubs

Passan's bold predictions | Your guide to MLB's offseason chaos
Jump to a game:
ATL-WAS | SF-NYY | BAL-BOS
MIL-CHC | DET-TB | PHI-TEX
MIN-KC | NYM-MIA | PIT-CIN
TOR-STL | CHW-HOU | COL-SD
LAA-OAK | ARI-LAD | CLE-SEA
All times ET
The pitching matchup: Max Fried vs. Patrick Corbin
The big storyline: The Braves have World Series aspirations but perhaps no contending team will have a more surprising Opening Day — or Opening Week — look than the Braves. After Dansby Swanson left in free agency, Vaughn Grissom was expected to take over as shortstop; instead, it will be veteran Orlando Arcia with Grissom beginning the season in Triple-A.
Editor's Picks
2 Related
The biggest shock comes in the rotation, however. With 21-game winner Kyle Wright still building up after receiving a cortisone shot in his right shoulder in January, rookies Jared Shuster and Dylan Dodd both made the initial rotation, alongside Opening Day starter Fried, Spencer Strider and Charlie Morton. No Ian Anderson, Bryce Elder or Mike Soroka. The kicker: A farm system that ESPN's Kiley McDaniel ranked last in the majors will be expected to contribute right out of the gate.
One obscure thing to impress your friends: Corbin starts for the Nationals — after leading the NL with 19 losses in 2022. The last Opening Day starter to draw the assignment after leading his league in losses: Corbin, last season. Before that: Matthew Boyd of the Tigers in 2021. And Sandy Alcantara of the Marlins did it in 2020, so it's not all that unusual, although Corbin's 6.31 ERA is certainly among the worst ever from the previous season for an Opening Day starter. — David Schoenfield
Braves lineup: TBA
Nationals lineup: TBA
The pitching matchup: Logan Webb vs. Gerrit Cole
The big storyline: All eyes will be on Anthony Volpe. "I don't know [how] to put into words how I expect to feel," said the rookie, who grew up a diehard Yankees fan, like his now-teammates Harrison Bader and Cole, about putting on the pinstripes and hearing Yankee Stadium public address announcer Paul Olden say his name during the pregame ceremonies. Volpe's promotion is perhaps the only storyline that could have trumped Aaron Judge's return to the South Bronx as the highest-paid player in Yankees franchise history and its first captain since Jeter. That on the heels of Judge breaking Roger Maris' 61-year-old American League home run record on his way to becoming last year's league MVP. And there is also this: As part of the new competitive balanced schedule, the Yankees will open the season against one of Judge's most aggressive offseason pursuers, his childhood team, the San Francisco Giants. And maybe Judge put it best when talking about the Yankees' Opening Day opponent. "I think I saw it middle of the year last year and I was kind of like, 'Someone's messing with me on the MLB side,'" he said with a huge grin. "I grew up as a kid watching the Giants … Getting a chance [to have my] first Opening Day as captain, and getting a chance to play against a great organization like that, we're going to have some fun."
One obscure thing to impress your friends: When Volpe first arrived in spring training back in February, the reporters that cover the team talked to him at his locker. And, as we typically do with kids who grew up as Yankees fans, I asked whom he was most looking forward to meeting during his first spring call-up. With Volpe being only 21 years old, one generally formulates a guess as to whose name it might be. The answer for most position players, nine out of 10 times, is Derek Jeter. But Volpe dropped an unexpected name: Willie Randolph. I was shocked, given Randolph's years with the Yankees spanned the late 1970s and 1980s — and Volpe was only eight years old when the Yankees won their last World Series ring in 2009. But Volpe explained that Randolph was a hero in his Yankees-crazed household, which is where his fanhood comes from. That day, I went over to talk to Randolph, a guest instructor with the club at the start of most spring trainings, and I told him about Volpe's answer. Randolph had yet to meet Volpe — the two would work closely this spring — but he was really impressed, and asked me to please let Yankees photographer Ariele Goldman Hecht know so they could take a picture together. After Randolph and Volpe met, they took the picture — which will certainly have a place of honor among the Volpe family keepsakes. — Marly Rivera
Giants lineup: TBA
Yankees lineup: TBA
The pitching matchup: Kyle Gibson vs. Corey Kluber
The big storyline: For Boston, an Opening Day matchup against the Orioles is a reminder that the team finished in last place in an extremely competitive division last season, five games behind a Baltimore team that surprised many after being projected to be the worst team in the AL East. With the departures of Xander Bogaerts and J.D. Martinez and the big contracts given to Rafael Devers and Masataka Yoshida, 2023 represents a crucial year for chief baseball officer Chaim Bloom, who will feel the fire from fans if Boston fails to make the playoffs for a second straight season.
MLB Opening Week on ESPN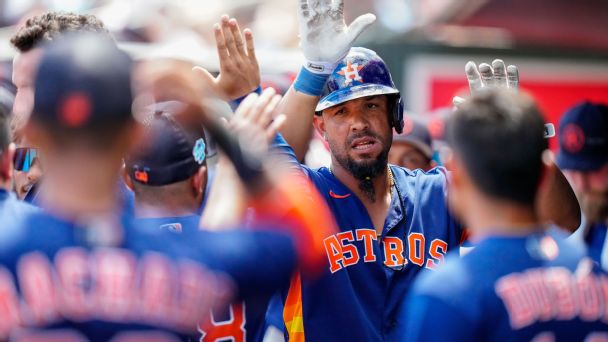 Opening Week is finally here! Tune in for the start of the 2023 season with some of the biggest early matchups.
Thursday
4:05 p.m. ET on ESPN+: Phillies-Rangers
7 p.m. ET on ESPN: White Sox-Astros
Friday
10:10 p.m. ET on ESPN+: Diamondbacks-Dodgers
Sunday
1:35 p.m. ET on ESPN+: Giants-Yankees
7 p.m. ET on ESPN: Phillies-Rangers
For Baltimore, it's time to start having some expectations. The O's aren't exactly a World Series contender, but in Year 2 of catcher Adley Rutschman, the full-season debut of top prospect Gunnar Henderson and other top prospects on the way — like Grayson Rodriguez and Jackson Holliday — we'll begin to see if the extensive rebuild over the last few years was worth it.
One obscure thing to impress your friends: Henderson is clearly a star on the diamond, but the infielder showed basketball prowess in high school too, averaging 17 points and 11 rebounds a game in 2019 for Morgan Academy, earning Alabama Independent School Association Player of the Year honors. — Joon Lee
Orioles lineup: TBA
Red Sox lineup: TBA
The pitching matchup: Corbin Burnes vs. Marcus Stroman
The big storyline: The denizens of Wrigley Field will get their first look at a revamped Cubs lineup. With Milwaukee starting righty ace Burnes, Chicago could feature an Opening Day lineup that includes six offseason signings. The list is led by shortstop Dansby Swanson and former NL MVP Cody Bellinger, who is looking to get his career back on track after being non-tendered by the Dodgers. Other likely new faces on the scorecard: Trey Mancini, Eric Hosmer, Edwin Rios and Tucker Barnhart.
One obscure thing to impress your friends: As you might imagine, it's not common for a player like Bellinger, who won an MVP award so early in his career (age 23), to find himself debuting with a new team so soon. Only nine hitters have won NL MVP honors in their age-24 or younger seasons. The first six — think guys with names like Aaron, Mays, Musial and Bench — played an average of 16 more seasons for the team they won the award with. Things have slowed. Kris Bryant, the 2016 winner, lasted five more seasons with the Cubs, then signed with the Rockies. Meanwhile, there is Bellinger and Bryce Harper, who both lasted three more seasons with their original teams after winning MVP. Obviously, the circumstances for the two sluggers were very different (non-tender vs. massive free agent deal) but the Cubs hope for a similar outcome: Harper repeated as an MVP winner for his new team in 2021. — Bradford Doolittle
Brewers lineup: TBA
Cubs lineup: TBA
The pitching matchup: Eduardo Rodriguez vs. Shane McClanahan
The big storyline: The Rays are seeking their fifth straight playoff appearance as McClanahan makes his second straight Opening Day start. McClanahan blitzed through the league in the first half last season, going 10-3 with a 1.71 ERA in his first 18 starts and starting the All-Star Game. He was just 2-5 with a 4.20 ERA in the second half, however, missing a couple starts with a sore left shoulder. "He can be better," manager Kevin Cash said early in spring training. "It's definitely doable."
One obscure thing to impress your friends: In the offseason, McClanahan dedicated himself to self-improvement, embarking on a regular stretching routine and limiting snacking and alcohol while focusing on home-cooked meals. He's on the short list of top AL Cy Young contenders. — Schoenfield
Tigers lineup: TBA
Rays lineup: TBA
The pitching matchup: Aaron Nola vs. Jacob deGrom
The big storyline: DeGrom's debut with the Rangers is the storyline of this game. Yes, he'll face the defending NL champions Phillies, but there's comparatively little mystery with that team, outside of how it will survive without injured stars Bryce Harper and Rhys Hoskins. With deGrom, the question isn't likely to be about performance, it's about durability.
ESPN Sunday Night Baseball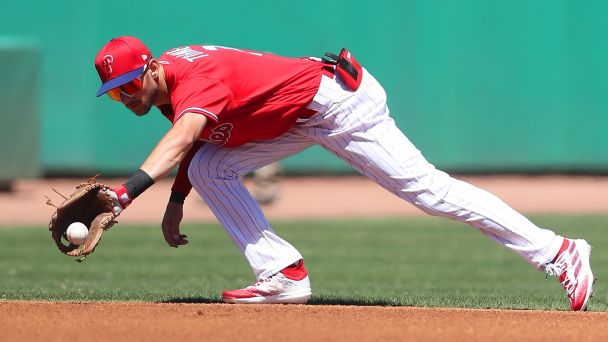 Catch the biggest names and the best teams in baseball on ESPN all season long.
Sunday, 7 p.m. ET: Phillies-Rangers
Watching deGrom on the backfields at Rangers camp during spring training brought oohs and ahhs — but not from adoring fans. Opposing minor league hitters were making those noises, and shaking their heads as they went back to the dugout after seeing 100-mph heat from the two-time Cy Young Award winner. His stuff was electric and the swings by those hitters told the story: Bad, late — or not at all. Many ridiculed the Rangers for spending $185 million on a player who appeared in a total of 26 games over the past two seasons, but there's a good chance that come Thursday afternoon, the baseball world will be reminded why they did.
One obscure thing to impress your friends: Phillies outfielder Nick Castellanos hates iPhones — he's not a fan of social media, either — but was forced to get one after having kids. "It's good for Ubers and things like that," he said this spring. "I still have my flip phone, though." — Jesse Rogers
Phillies lineup: TBA
Rangers lineup: TBA

The pitching matchup: Pablo Lopez vs. Zack Greinke
The big storyline: The shortstops will be the focal point of both teams in 2023. Carlos Correa ended up returning to the Twins after his failed attempts to sign with the Giants and Mets. For all the injury issues earlier in his career, Correa has been pretty healthy the past three seasons, missing two games in 2020, 14 in 2021 and 26 last season (most of those due to a finger injury). The Twins would love nothing more than 150-plus games from him. For the Royals, Bobby Witt Jr. showcased his explosive tools as a rookie, hitting 20 home runs with 57 extra-base hits and 30 steals. Now it's all about refining his game: consistency at the plate, improved plate discipline and better defense after some surprisingly poor defensive metrics, especially at shortstop. The rebuilding Royals need him to turn into a star.
One obscure thing to impress your friends: Greinke will be making his seventh career Opening Day start — three for the Royals (2010, 2022, 2023), three for the Diamondbacks and one for the Astros. His comment: "It's nice." The record for most different teams making an Opening Day start for belongs to Gaylord Perry, who started for the Giants, Indians, Rangers, Padres and Mariners. — Schoenfield
Twins lineup: TBA
Royals lineup: TBA
The pitching matchup: Max Scherzer vs. Sandy Alcantara
The big storyline: Can Mets owner Steve Cohen buy a championship? When the departure of Jacob deGrom left a big hole in New York's rotation, the Mets filled it by signing reigning AL Cy Young Justin Verlander and Japanese star Kodai Senga. Otherwise, New York returns much of the same clubhouse that gelled exceptionally well last season. With closer Edwin Diaz out for the year with a knee injury, what happens at the back end of the bullpen remains a question for the Mets, who have options with Adam Ottavino and David Robertson.
2023 MLB Rank: Who's No. 1?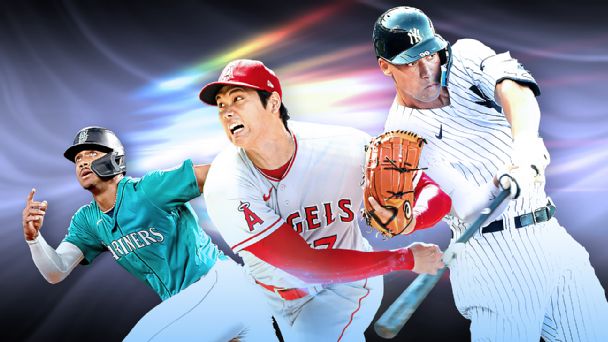 We ranked and made predictions for the best 100 players in the sport for the upcoming 2023 season.
Top 100 list »

Snubs, surprises and more »

Predicting future stars »
Miami has a legit ace in Alcantara, but a lot of eyes are focused on Jazz Chisholm, who will transition from the middle infield to the outfield after an injury-filled 2022 season. Chisholm — who graces the cover of this year's "MLB: The Show" video game — has everything you need to be a star, but hasn't had a season where he's put it all together yet. If the Marlins have any hope for the future with its current core, the Marlins need to see progress from Chisholm.
One obscure thing to impress your friends: While Senga comes over to New York as one of Japan's most famous baseball players, that almost wasn't the case. The Fukuoka SoftBank Hawks selected Senga in the developmental player draft, which does not guarantee players a spot on a minor league roster. He transitioned from infielder to pitcher and became one of the biggest surprise stories in Nippon Professional Baseball history, turning into one of the league's best players after starting out on the bottom rung, a similar development success story to 62nd-round MLB draft pick Mike Piazza or 13th-round pick Albert Pujols. — Lee
Mets lineup: TBA
Marlins lineup: TBA
The pitching matchup: Mitch Keller vs. Hunter Greene
The big storyline: Umm … the battle for fourth place in the NL Central? Neither team figures to be in the playoff race, but each feature one of the most potentially exciting players in the game: Pirates shortstop Oneil Cruz and Reds Opening Day starter Greene, both entering their sophomore seasons. Cruz needs rein in the strikeouts to get to his impressive raw power more often. Greene, who averaged 98.9 mph with his fastball, simply needs to build upon what we saw down the stretch last year when he had a 0.62 ERA over his final five starts with a 45/7 strikeout-to-walk ratio.
One obscure thing to impress your friends: Joey Votto had started the last 14 Opening Days for the Reds but will begin the season on the IL as he continues to recover from last August's rotator cuff surgery. Votto did play in spring training games but will start the season on a rehab stint in the minors. He's in the final year of a 10-year, $225 million extension he signed back in 2012. "I think I'm going to play well," Votto told reporters the other day. "I think I'm going to perform well offensively. If not, I'm going to retire. End of story." — Schoenfield
Pirates lineup: TBA
Reds lineup: TBA
The pitching matchup: Alek Manoah vs. Miles Mikolas
The big storyline: Much-hyped prospect Jordan Walker will still be a few weeks shy of his 21st birthday when he takes the field for his first Opening Day at Busch Stadium. Assuming Walker plays in the opener, he will become the youngest Cardinals position player ever to make his MLB debut in an Opening Day game. He will be the first hitter 21 or younger to debut in an opener for the Redbirds since Albert Pujols in 2001. Pujols, as we all remember, retired last fall after a memorable final season for St. Louis. Kismet? To be fair, we can't put Pujols' considerable legacy on Walker's shoulders any time soon, but he certainly looks like a special talent and is a preseason frontrunner in the NL Rookie of the Year race.
One obscure thing to impress your friends: For the first time since April 8, 1969, the Cardinals will feature a member of the Caray family in their broadcast booth. Chip will take over as the new TV voice of the Redbirds this season, following in the footsteps of his legendary grandfather, Harry, who called games for the Cardinals from 1945 to 1969. Harry's last Opening Day broadcast was a doozy: After being hit by a car during the offseason and breaking both of his legs, he appeared on the field at Busch Stadium II during Opening Day ceremonies, hobbling around on two canes. Then he dramatically chucked the canes into the air to the delight of the fans. Chip, who was born and raised in St. Louis, was four years old at the time. He's got a tough act to follow. — Doolittle
Blue Jays lineup: TBA
Cardinals lineup: TBA
The pitching matchup: Dylan Cease vs. Framber Valdez
The big storyline: Jose Abreu was the clubhouse leader in his nine seasons with the White Sox, with young players naturally gravitating toward the equilibrium in his personality and the team relying on his production. With the White Sox front office turning to a younger, cheaper option in Andrew Vaughn, 24, to play first base, Abreu signed a three-year, $58.5 million deal with the Astros — and, not surprisingly, he has fit in seamlessly, reporting to the Astros' spring camp two weeks before it opened. "It feels like family," he said early in the camp. Knowing how competitive Abreu is, one staffer said, "He'll probably hit four homers." It wasn't clear whether the staffer meant Abreu would bash four homers on Opening Day or over the first series, but you get the point. Abreu will want to put on a show for his ex-teammates.
One obscure thing to impress your friends: The Astros will try to become the first team since the Yankees of 1998 to 2000 to repeat as World Series champions, almost a quarter century ago. But the difficulty of the challenge of going back-to-back is underscored by this fact: The last team that won a World Series to even return to the Fall Classic the following season was the 2001 Yankees, who held a lead in the bottom of the ninth inning of Game 7. Yainer Diaz, the Astros' backup catcher, was three years old when that occurred. — Buster Olney
White Sox lineup: TBA
Astros lineup: TBA

The pitching matchup: German Marquez vs. Blake Snell
The big storyline: It's not necessarily the start of the "Big Four" era because Fernando Tatis Jr. won't come off his PED-related suspension until April 20. But it's a teaser, at least. The Padres, looking to capitalize on reaching the NL Championship Series last October, signed shortstop Xander Bogaerts to a $280 million contract this offseason, teaming him with Tatis, Manny Machado and Juan Soto to form a devastating lineup. Three of those four will be in there Opening Day, making up what is probably the most star-studded roster in the major leagues. The Padres have set themselves up for grand expectations, more so than at any point in their franchise's history. The goal is to deliver San Diego its first championship. Anything less is a failure.
One obscure thing to impress your friends: Nine players attained nine-figure contracts this offseason, and three of them did so with the Padres — Bogaerts, Machado and starting pitcher Yu Darvish, with the latter two doing so on extensions. All three of those players are now signed into their 40s. The Padres' competitive balance tax payroll — the figure used to determine where teams reside relative to the luxury tax threshold — sits at a projected $276 million heading into 2023. Only the Yankees ($295 million) and the Mets (a whopping $375 million) are higher. — Alden Gonzalez
Rockies lineup: TBA
Padres lineup: TBA
The pitching matchup: Shohei Ohtani vs. Kyle Muller
The big storyline: As it was, as it is, as it shall be: Shohei Ohtani. He's not only the One Big Opening Day storyline, he's bound to be one big season-long storyline. This could be the beginning of the end to Ohtani's career as an Angel, and it starts on the mound — and in the batter's box — in the barren expanse of the Oakland Coliseum, nearly five years to the day after he made his first big-league start on the same exact spot.
One obscure thing to impress your friends: Center fielder Cristian Pache, considered the best prospect in the trade that sent Matt Olson to the Braves, couldn't crack Oakland's Opening Day roster despite being out of options. He was traded Wednesday for Billy Sullivan, a Phillies reliever who had a 4.59 ERA in Double-A. "It was really hard to run out of time with a player that you feel is young and still has a huge future in this game," A's manager Mark Kotsay said. The A's, a franchise eternally waiting for something — a new home, a contending team, the next trade of a known quantity for a group of unknowns — finally found something that wasn't worth the wait. — Tim Keown
Angels lineup: TBA
A's lineup: TBA
The pitching matchup: Zac Gallen vs. Julio Urias
The big storyline: Teams doled out free agent dollars in record fashion this offseason, but the Dodgers, among the most aggressive spenders these last few years, opted to mostly stand pat in order to create a path for their homegrown players. We've already seen that backfire in one respect, with Gavin Lux, primed to be the everyday shortstop, suffering a season-ending knee injury in spring training. Do they have enough to contend the way they have over the last decade? And can the D-backs — an underrated team that plays really good defense, runs the bases well, received solid contributions from key members of their rotation last season and has several young players ready to make an impact — give them a run?
MLB 2023 Rule Changes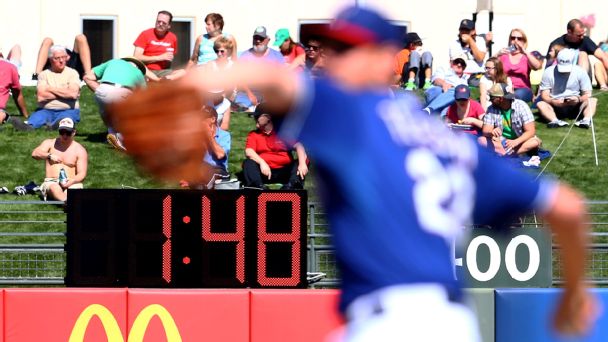 From bigger bases to the pitch clock, baseball will look very different this season. Here's what you need to know.
Why MLB is making changes » | FAQ »
One obscure thing to impress your friends: Keep your eyes on Miguel Vargas, the 23-year-old who will get his first opportunity to play every day in the major leagues. His hit tool has never really been in question — the concern has been his defense. But the Dodgers believe he'll be a lot better defensively at second base than many outsiders expect, pointing to the work he put in during the offseason. They see him as a potential breakout star, somebody who will compete for the Rookie of the Year Award. Just as important: He plays with high energy, runs the bases aggressively and should be lots of fun to watch. — Gonzalez
Diamondbacks lineup: TBA
Dodgers lineup: TBA

The pitching matchup: Shane Bieber vs. Luis Castillo
The big storyline: One of just two Opening Day games where both teams made the playoffs last year (Blue Jays-Cardinals is the other), this one showcases a terrific pitching matchup between Bieber and Castillo. That's fun, but all eyes will be on Julio Rodriguez, who enters the season as one of the must-watch players in the game after his stellar rookie of the year campaign. He ranked seventh on ESPN.com's list of the top 100 players in the game, an aggressive ranking, but symbolic of what the 22-year-old might achieve after hitting .284 with 28 home runs and 25 steals — with the charisma to match.
One obscure thing to impress your friends: The Mariners made the playoffs last year for the first time since 2001, but going back to 2007, they have the best Opening Day record in the majors at 13-3 (the Mets and Dodgers are 12-4). Much of that is thanks to Felix Hernandez, who started 11 Opening Day games and posted a 1.53 ERA. — Schoenfield
Guardians lineup: TBA
Mariners lineup: TBA