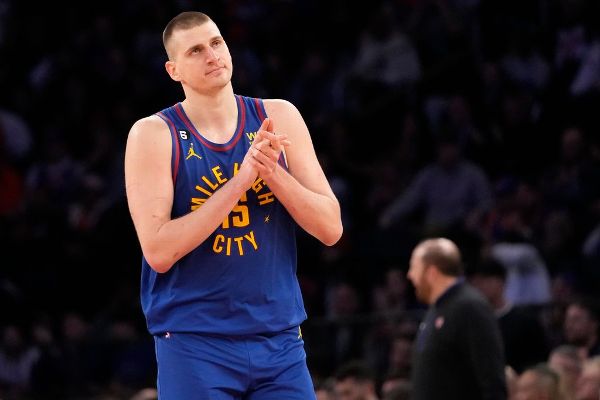 DENVER — Nikola Jokic did not get to face Joel Embiid in a highly anticipated duel with MVP ramifications on Monday night.
With Embiid sitting out due to a right calf injury, Jokic delivered his 29th triple-double of the season to lift the Denver Nuggets to a 116-111 win over the Philadelphia 76ers at Ball Arena.
The Sixers sat both Embiid and James Harden (sore left Achilles) as Jokic compiled 25 points, 17 rebounds and 12 assists. Afterward, Jokic, the two-time reigning MVP, dished out nothing but high praise for the Sixers superstar looking to win his own MVP crown.
"I think he's a great player," Jokic said of Embiid. "I think he's gonna be remembered as one of the most dominant players in the league. The guy's a beast, and he's so talented.
"He can affect [the game] many ways on the floor. He can post up, he can face up, he can shoot 3s. He can defend really well. He can, in some situations, guard 1 through 5. So he's a really, really good player."
Editor's Picks
2 Related
Monday's contest was supposed to be one final regular-season showdown between two of the leading MVP candidates, a chance for Jokic and Embiid to deliver a strong case to voters.
For Jokic, this was slated to be his second straight game against another leading MVP candidate. On Saturday, Jokic faced the Milwaukee's Giannis Antetokounmpo and helped the Nuggets beat the Bucks 129-106. Jokic had 31 points, 11 assists and six rebounds while getting Defensive Player of the Year candidate Brook Lopez into foul trouble.
Then, on Monday morning, the Sixers decided to hold out Embiid to give his sore right calf some rest amid their packed schedule.
In their only other regular-season matchup, Embiid exploded for 47 points, 18 rebounds, five assists, three steals and two blocks in a 126-119 win over the Nuggets on Jan. 28 in Philadelphia. Jokic had 24 points, nine assists and eight rebounds.
The MVP debate has been a hot topic this season, with Embiid leading the league in scoring at 33.3 points per game to go with 10.2 rebounds per game. He recently went on a scoring tear, beginning the month of March with 10 straight 30-point games, the first center to do so since Shaquille O'Neal in 2001.
Meanwhile, the Western Conference-leading Nuggets hit a rough patch in early March, losing four straight games and five of six. But they've won four in a row since.
Jokic is looking to become the fourth player to win three consecutive MVP awards, joining Larry Bird, Wilt Chamberlain and Bill Russell.
The Denver big man has five triple-doubles this month and 105 for his career, one shy of tying LeBron James for the fifth most in NBA history.
Sixers coach Doc Rivers, when asked about the discourse surrounding the MVP race, said people should appreciate Embiid and Jokic.
"It's like we can't celebrate people," Rivers said before the game. "The league is in a great place. It's in an amazing place. You've got Joel Embiid and Joker, two centers, in a non-center league, dominating the league. You've got Giannis, and I always put him as a whatever, because we don't know what [position] Giannis is, but he's one of the best players in the league. Jayson Tatum is playing unbelievable. Kevin Durant, if he wasn't hurt. You can just keep going.
"You can like them all, and you can actually not like one because you love the other one. But you don't have to hate on anybody. I think we just need to get back to judging whatever your flavor is, and I don't think you have to hate the other one, for sure."