DENVER — If Denver weather cooperates, Nikola Jokic said he will be soaking in a pool when the 2022-23 MVP is announced Tuesday.
The reigning back-to-back MVP earned his day in the sun after dominating the Phoenix Suns and carrying the Denver Nuggets to a 97-87 victory in Game 2 of their Western Conference semifinal series at Ball Arena on Monday night.
Perhaps it is fitting on the eve of the MVP announcement that Jokic delivered an MVP performance with 39 points, 16 rebounds, five assists and two steals to give Denver a 2-0 lead in this best-of-seven series.
With voters having cast their ballots at the end of the regular season, this MVP contest could be one of the most tightly contested races between leading candidates Jokic, Philadelphia's Joel Embiid and Milwaukee's Giannis Antetokounmpo.
In his typical understated fashion, Jokic reiterated that he doesn't care who wins the NBA's most coveted individual award.
Editor's Picks
2 Related
"I don't really think about it," Jokic said. "Like zero interest."
Jokic's full focus is on the Suns. With Jamal Murray struggling through a 3-for-15 shooting night, including going 0-for-9 from behind the arc, Jokic put aside his pass-first mentality and was much more aggressive looking for his shot. He took 30 shots — the most he has taken all regular season and postseason — and displayed his touch. He hit two 3s, sank floaters and scored on an array of moves in the post.
He scored 18 of his points and hit 7 of 11 shots in the third quarter when Phoenix's Devin Booker scored 14 of his 35 points.
When Murray was asked what Jokic showed with this outburst the night before the MVP winner is announced, the shooting guard pointed both of his hands at the stat sheet in front of him with an incredulous look on his face.
"I mean 39 and 16, five dimes while everybody else is struggling," said Murray, who had six points and four assists in the fourth quarter. "Man, no hesitation from him. Just dominating down low and from 3, both ways. Staying aggressive all game, uplifting us during timeouts, just full belief in us the whole time while he's taking over and picking up everybody's slack.
"I mean tonight was a perfect example of a two-time, potentially three-time MVP."
When the Suns cut the Nuggets' lead down to one twice midway through the fourth, Jokic answered each time with a floater. He buried another floater with 3:25 to give Denver an 86-81 lead. The Suns never recovered.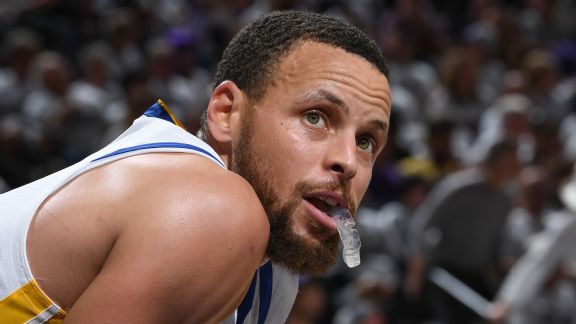 • Why the time is now for James Harden
• Stars call out Steph's 50-point game
• Knicks-Heat, their classic NBA rivalry
• Friedell: Key to Steph Curry's magic
• MacMahon: How players work the refs
• More: Schedule, news | Experts' picks
If Jokic wins a third-straight MVP award, he would become just the fourth man to do so, joining Larry Bird, Wilt Chamberlain and Bill Russell.
"I mean, I cannot think about that, my friend," Jokic said when asked what it would mean to him if he were to join such an exclusive group. "Because I cannot control it."
Denver coach Michael Malone said Jokic and the Nuggets are focused on winning a bigger prize.
"I marvel at his greatness," Malone said. "I marvel at his consistency, his excellence, his ability to find so many different ways to beat you, whether it's scoring, rebounding, playmaking, not afraid of the moment.
"There's so many quality [MVP] candidates and it'll be a really close race. But I know what motivates Nikola Jokic, what motivates myself and the rest of the guys in that locker room, is not the MVP. It's our journey to try and win the first championship in franchise history."
Malone said if Jokic does not repeat as MVP, he will hug his star center and "tell him he's the MVP in my eyes."
All Jokic said he was looking forward to doing Tuesday was relaxing.
"Hopefully it's going to be a sunny day," Jokic said. "So I can be in the swimming pool."