We are two weeks into the 2023 MLB season, and most teams have played a dozen games of their 162-game schedule. In other words, it's early. Perhaps too early to glean a whole lot from what has happened so far. But what's the fun in that?
We asked our MLB experts to go all-in on what they've seen by making a prediction based on this small sample size. They were allowed to pick anything they wanted, with two conditions: It had to be bold, and it had to be something they truly believe could happen this season.
Some of our predictors went really wild, while others chose to play it safe, so we took the liberty of ranking their choices from mild to spicy. Here is what they chose.
Born to be mild
Thearon W. Henderson/Getty Images
AJ Mass: San Francisco will be the even-steven Giants
Forget the very good Tampa Bay Rays, off to an 11-0 start, and the very bad Oakland Athletics, already in last place and on their way to a 100-loss campaign. My hot take is that the San Francisco Giants will be the most feast and famine team in all of baseball. They're going to have their very good days. They're going to have their very bad days. But by the time we get to October, they'll be exactly 81-81. And here's where it gets interesting: They'll lead the league both in the number of times they are shut out and the number of times they score in double digits.
Why it's mild: This prediction is oddly specific, but that doesn't make it all that bold. It's a long season — and we all have our good days and our bad days. Our preseason projections had the Giants at 85 wins, so predicting them to finish four wins off, with an equal number of really good and really bad moments, isn't going all that far out on a limb.
Joon Lee: A last-place finish in Boston?
Adam Duvall's broken wrist revealed the wobbly foundation of the Boston Red Sox's roster. To replace Duvall, Boston called up Bobby Dalbec, who has been trying to add shortstop and third base to his repertoire. The injury is pushing Boston to play Enrique Hernandez — who started the season at shortstop — in the outfield, where he has led the league in errors while filling in for the injured Trevor Story.
Editor's Picks
2 Related
Boston already needed everything to go right this season to have a shot at the playoffs — but one injury has already shaken the Red Sox's roster to its core.
Why it's mild: To understand why we aren't exactly melting from the heat of this take, one needs to look no further than the 2022 American League East standings, where you will find the Boston Red Sox all the way at the bottom. Combine what we saw on the field last year, the lack of a splashy offseason addition and a slow start this season, and it might actually be bolder to predict the Red Sox will finish anywhere other than the basement of a loaded division.
It's not that you aren't bold; others are just bolder
Brandon Sloter/Icon Sportswire
Brad Doolittle: The Brewers will make the playoffs — and the Dodgers won't
I'm going to refrain from pointing out how the concept of hot takes makes rational people say things that they don't actually mean. Instead, I will just point out that in 2023, the Los Angeles Dodgers have a wider range of possibilities than they have had at any time in the past decade or longer. I also think the Milwaukee Brewers are going to make the playoffs. That is not a hot take. If the Brewers invade what felt like a largely set National League playoff field, someone will miss out. The hot take part of my otherwise rational mind tells me that team will be the Dodgers.
Welcome to the Pitch Clock Era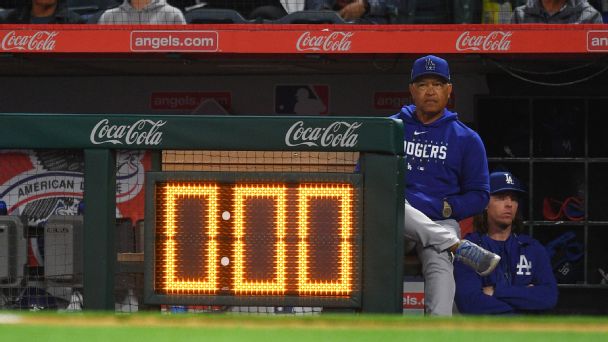 Here's why the pitch clock is the biggest thing to happen to MLB since … maybe ever.

Jeff Passan »
Why it's (mostly) mild: OK, we're going to refrain from pointing out that the concept of this exercise is to bring out your inner hot taker to tell us what you really mean but haven't yet said. Instead, we will just point out that you spent the first half of your allotted hot take window explaining why the Brewers making the playoffs isn't a hot take. Then right there at the end, you heat up and drop some boldness on us. We'll give you some points for predicting the Dodgers' playoff streak will end, but your hot take delivery is a work in progress, at best.
Eric Karabell: Rookies will carry the Dodgers to the top of the NL West
The Dodgers will have at least three of the top five in NL Rookie of the Year voting. James Outman already should be their regular center fielder, a potential 20-homer, 20-steal option with plate discipline. Second baseman Miguel Vargas is a walk magnet with power. Down on the farm, right-handers Gavin Stone and Bobby Miller are future aces; both are already better than No. 5 starter Noah Syndergaard, and who knows if Clayton Kershaw, Dustin May and Tony Gonsolin can stay healthy for six months. The Dodgers will win the NL West again, led by rookies in the lineup and rotation.
Why it's (mostly) mild: This take is actually hotter than it looks on the surface. First, it's important to point out that this is starting to feel like a loaded rookie class in the National League. Corbin Carroll, Jordan Walker, Kodai Senga and Garrett Mitchell have all shown why they are threats to win the award this year alongside the first two Dodgers you mentioned. Then you go ahead and add a third Dodger, who isn't in the majors yet, as a potential breakout name to watch — and casually put L.A. ahead of San Diego in the NL West. Nailed the dismount.
Now we're heating up
Nathan Ray Seebeck-USA TODAY Sports
Tim Keown: The 2023 Athletics just might be the worst team … ever
It gives me no pleasure to report that the Oakland Athletics — who currently have a 3-9 record with an OPS of .655 and an ERA of 7.54 — have all the pieces in place to challenge the 1962 New York Mets for most losses in a 162-game season. The Mets, in their first season, lost 120, and it remains to be seen if the A's can conjure the same lovable loser mythology that allowed those Mets to achieve a certain legendary status in the game's history. More likely, Oakland's unique combination of a spin-the-wheel roster and apathetic ownership will go down as more sad than playful.
Why it's got some heat: Yes, the A's are 3-9, but we really don't need the standings to tell us that this is not a good baseball team. You also weren't quite willing to predict that they would become the biggest single-season losers of all time — just that they have a chance to challenge for the dubious mark. That said, any time you are willing to throw out a comparison to the 1962 Mets this early in the season, you have our attention.
Alden Gonzalez: Shohei Ohtani will win the Cy Young, Silver Slugger, Gold Glove and, of course, MVP
I will say this confidently without even looking it up: This has never been done before. And thinking this is anything less than the hottest take imaginable only speaks to how much of a unicorn Shohei Ohtani actually is. Still, it's … realistic? Let's break it down.
2023 MLB Rank: Who's No. 1?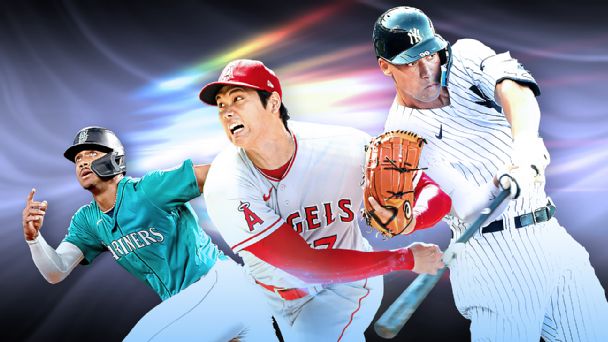 We ranked and made predictions for the best 100 players in the sport for the upcoming 2023 season.
Top 100 list »

Snubs, surprises and more »

Predicting future stars »
Ohtani already won a Silver Slugger in 2021, and Yordan Alvarez won it in the designated hitter category in 2022. It could come down to those two again this year. The Cy Young might be just as reachable, given that Ohtani finished fourth in the voting last year, he lines up to make more starts in 2023 (he'll pitch with five days' rest each time, as opposed to operating within a strict six-man rotation and often getting additional time between starts) and he continues to evolve as a pitcher. A Gold Glove? That might actually be his toughest award; it's really hard to decipher this for pitchers due to the rarity of fielding opportunities at that position. But Ohtani certainly has the ability here too. If he earns all three, he'll win the MVP unanimously, again, and sign for a billion dollars — or something like that.
Why it's got some heat: This take is not quite as hot as it originally sounds — but that is more a product of Ohtani being really, really good than a fault of the hot taker. Predicting any player to unanimously win MVP honors in a league that could see Aaron Judge hit 60-plus home runs again is bold. Predicting that same player will be the Cy Young in his league is also bold. The trouble here is that Ohtani is so amazing that predicting him to win both is actually taking a favorite for each award.
Now, if Ohtani's next contract is actually for one billion dollars, we'll come back and crown this the spiciest take on the list.
Wait, is anything about the Rays really that bold right now?
play
0:37
Mad Dog pours cold water on Rays' hot start
Chris "Mad Dog" Russo doesn't see the Rays as a World Series contender despite their hot start this season.
Buster Olney: The Rays will go wire to wire in the AL East
I'll take my first mulligan in the preseason predictions and say: The Tampa Bay Rays are going to go wire to wire and win the AL East. That doesn't mean that the New York Yankees or Toronto Blue Jays will fade; those are two very good teams. But the first two weeks have revealed the Rays as a deep and dangerous team: Wander Franco and Randy Arozarena have developed into core stars, and they're surrounded by an excellent cast of supporting players. History shows us it's possible for teams to break away early, never to be caught: the 1984 Tigers, 1955 Dodgers and 1977 Dodgers are examples. The balanced schedule means fewer games against the AL East, which will help the Rays keep their early-season grip on first place.
Why it's actually pretty hot: Just two weeks ago, our MLB experts made their predictions for the season — and only one of our 28 voters tabbed the Rays to win the AL East. Now that was bold. But being willing to go all-in on Tampa Bay's fast start two weeks in is still pretty hot. This leaves us to wonder how many of the other 27 voters who didn't pick the Rays would switch their pick if given the chance today.
Jeff Passan: Your 2023 AL Cy Young will be … Jeffrey Springs
Yes, I'm suggesting a 30-year-old who before last season had started two games in his major league career is primed to beat out Gerrit Cole, Jacob deGrom and Shohei Ohtani for the prize of best pitcher in the American League. A 30th-round draft pick on his third organization will be better than Dylan Cease, Kevin Gausman and even his own teammate Shane McClanahan. Why? Well, the one-word answer is: sweeper. Springs bullied his way into Tampa Bay's rotation last year on the strength of exceptional fastball command and a gyro-spinning changeup that dies three-quarters of the way to the plate. But the emergence of a legitimately excellent breaking pitch — the sweeping slider he developed over the winter — has taken a good pitcher and made him great. In six starts between spring training and the regular season, Springs has thrown 27 shutout innings, struck out 43 and allowed only 16 baserunners. He's still +2500 to win the Cy Young. Get in before the odds grow even shorter.
Why it's actually pretty hot: OK, Rays or not, this is coming in hot. Be honest, readers: How many of you actually knew who Jeffrey Springs was two weeks ago? (How many of you knew who he was two minutes ago?) Now, how about those readers who live outside of the greater Tampa area? Not many, right? So predicting the Rays pitcher will go from relative obscurity to topping names like Cole, deGrom, Ohtani, Cease, Alek Manoah for the AL's top pitching honor is a very spicy take.
We do have to wonder though: Is this simply a case of one Jeffrey going all-in for another?
Who turned up the heat?
Tim Nwachukwu/Getty Images
Paul Hembekides: 230 hits for Luis Arraez
I know, 230 is a massive number; no hitter has gotten there since Ichiro Suzuki in 2007. But there are two reasons Arraez can pull it off: He leads the majors in contact rate (91%) since he entered the league in 2019 and will benefit from the abolition of the shift as much as anybody (.178 batting average on pulled ground balls and infield line drives from 2019 to 2022). Should he continue to bat leadoff for the Miami Marlins, pencil him in for 700 plate appearances and a run at a hit total we've not seen in 16 years.
Why it's a very hot take: You had us at Ichiro. Any time the category is hits and the answer includes "nobody has done this since Ichiro," you are probably talking about a pretty significant feat. In fact, here is the entire list of players to reach 230 hits in a single season since 2000: Ichiro (three times) and Darin Erstad (in 2000). Add in the fact that Arraez's career high is just 173 hits and the heat just keeps rising on this take.
Jesse Rogers: None of last year's six division winners will repeat
This is coming from someone who picked all 12 playoff teams to return to the postseason two weeks ago. In the AL, the Seattle Mariners or Texas Rangers will upend the Houston Astros. The Minnesota Twins or Chicago White Sox will beat out the Cleveland Guardians. The Rays … well, you get it.
2023 MLB Season: What you need to know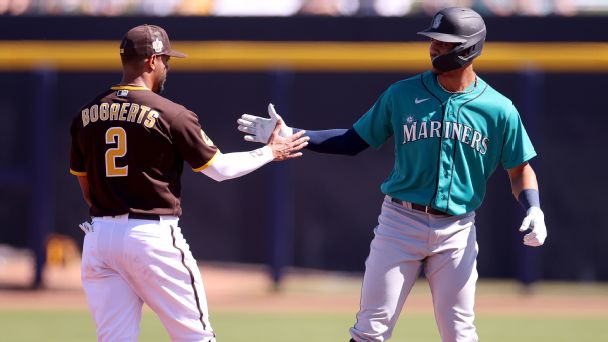 Baseball is back! Here's what you need to get ready for a new season.

Passan previews all 30 teams »
Predictions » | Ranking all 30 teams »
Your guide to the MLB offseason chaos »
In the NL, Milwaukee's magic continues through 162, and the San Diego Padres — or even the Arizona Diamondbacks — win the NL West. The NL East is where this take gets toughest; I don't love picking against the Atlanta Braves, but the Mets will get a boost when Justin Verlander returns.
Why it's a very hot take: A little behind-the-scenes hot take truth: This take just missed making the cut for our final and boldest category. What you did here reminds us of a term you usually hear in Las Vegas: parlay. None of these predictions is all that bold alone, but when you keep stacking the teams that won't repeat as division champs, it adds up to a very hot take.
What kept it just shy of the tier every hot taker is striving to reach? Well, let's use another term you often hear in Vegas: hedging. There are a lot of eithers and ors when you get around to telling us who actually will win these divisions. And for that reason, it falls just shy of the next two takes.
You sure you can handle this heat?
New York Yankees/Getty Images
David Schoenfield: Aaron Judge hits 64 home runs and posts the first 11-WAR season since Barry Bonds in 2002
Home runs are up. Batting averages are up. Walks are way up as pitchers are perhaps struggling adjusting to the pitch clock. Oh, and Aaron Judge is off to a strong start with four home runs already. Last year, he hit one his first 13 games. Judge's maturation as a hitter is now complete; don't forget that he hit .311 last season, second in the American League. He has learned to take care of his body and has been healthy the past two seasons. We haven't even gotten to the warmer weather of summer when the ball really starts flying. All rise for a new AL home run record for the second straight season.
Why this take is straight fire: Look, every take on this list is hot in some shape or form. So to make it into this elite tier, the hottest of hot takes, it takes something extra spicy — and this take certainly fits.
In fact, when this take arrived, another hot taker couldn't help but comment, "Dave coming in with a flamethrower and propane tank." And who are we to argue over something that drew that kind of reaction. Sure, we could pick nits that the first half of this prediction is actually calling for Judge to hit just two more home runs than he did last season, which is not all that bold. But you then went ahead and doubled down with a WAR total that Barry Bonds is the only position player to reach this century and left us with no choice but to respect the heat.
Tristan Cockcroft: Rangers will be the AL West's last team standing this October
They play in a competitive division in which three other teams were generally more popular preseason playoff picks; indeed, the Rangers were regarded more of a hey-maybe-in-2024 contender. But this team is built strongly enough to win now — and make serious noise during the postseason. Sure, a little luck is needed on the injury front (hello, Jacob deGrom), but piling up April and May wins will have a way of coaxing the Rangers' big-spending, going-for-it-soon owner to dive right in. And since they possess organizational prospect depth that a mere handful of teams can rival, this is the team that shocks the world by trading for Shohei Ohtani at the deadline, the final puzzle player the Rangers need to make their serious October push. Just like last October, we'll again be talking up the managerial prowess of an ex-Giants skipper.
Why this take is straight fire: When this take came in, we passed it around like, well, a hot potato, because we couldn't handle the heat. One response summed it up best: "It's like a Trojan horse. It's bold … then gets super-specific bold."
If you had just picked the Rangers to be the last AL West team standing, ahead of the defending champion Astros and the Shohei Ohtani/Mike Trout-led Angels, that alone would have been bold. But the way you just snuck in, "Oh, by the way, they'll also trade for Ohtani — from across the same division, mind you," without skipping a beat, that is the stuff of hot take legend. Now we just have to wait about 150 more games to see if any of this comes true.