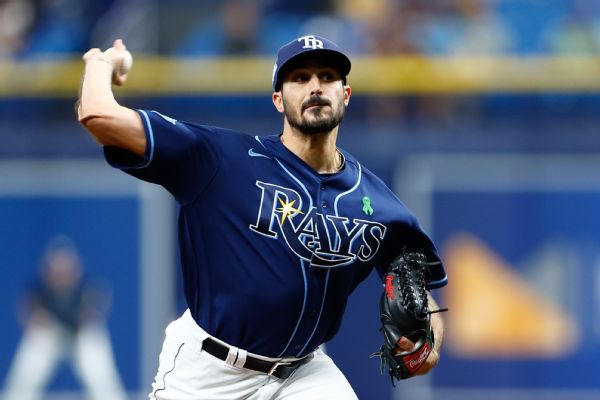 One inning into Rays starter Zach Eflin's 7-inning gem against Pittsburgh, the umpiring crew had him remove a ring from his glove hand during a conference on the mound with Tampa Bay manager Kevin Cash present.
Eflin said other umpire crews had let him wear the ring, but this one told him he'd be ejected if it wasn't removed.
"This is the first crew that's really given me trouble about taking the ring off," Eflin said after he hurled seven shutout innings to lift Tampa Bay to a 3-2 win and a three-game sweep of the visiting Pirates on Thursday.
Eflin got married in 2020 and has been wearing the ring since the start of the 2021 season. He put the ring in his pocket at first and later on his necklace.
He emphasized that most umpiring crews are "cool" with him leaving his ring on, but Thursday's crew instructed him and Cash before the start of the second inning that he would have to remove the ring on his glove hand.
"This umpire crew was kind of a little different. They seemed a little on edge," Eflin said. "It's part of it. I said, 'If you're going to eject me out of the game then I'll take it off,' and that's what they ended up coming out and telling me on the mound."
The discussion came one day after Pittsburgh manager Derek Shelton was ejected for arguing about how the pitch clock was operating at times, and then Thursday, several Pirates expressed displeasure with plate umpire Manny Gonzales' strike zone. Seven of the Pirates' 10 strikeouts against Eflin were called third strikes.
When asked if he thought the umpires were taking anything out on him, Shelton replied, "I would hope not."
"That's not how it should go," Shelton added. "You should call the game how should be. All I know our hitters had a lot of questions about pitches."
The Associated Press contributed to this report.