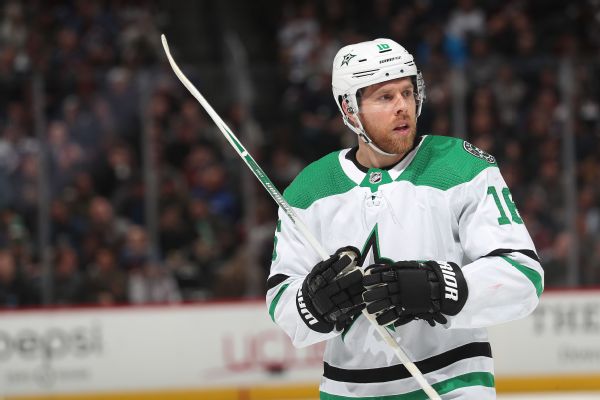 Dallas Stars forward Joe Pavelski had to be helped off the ice in the second period of Monday's Western Conference playoff opener against Minnesota after taking a massive hit from Wild defenseman Matt Dumba.
Pavelski had just fired a backhanded shot on net with 7:58 remaining in the period when Dumba closed in on a shoulder-to-shoulder collision. Dumba's stick struck Pavelski in the face before both players fell down, with Pavelski's head hitting the ice.
Pavelski, 38, lay still for several seconds and was slow to move as a member of the Stars' athletic training staff rushed onto the ice.
Pavelski was able to get to his knees and speak to the trainer before he skated over to the bench, escorted by the trainer and Stars forward Mason Marchment. Pavelski nearly lost his balance at one point. A second member of the Stars' training staff took over from Marchment to get Pavelski to the locker room for treatment.
Editor's Picks
2 Related
The Stars said Pavelski was doing "OK" afterward, but his status for Game 2 on Wednesday night was uncertain.
The Wild defeated the Stars 3-2 in Dallas to take a 1-0 series lead when Ryan Hartman scored 12:20 into the second overtime period, ending a four-plus-hour game that dragged into early Tuesday morning.
"I'm not confident for Game 2," Stars coach Pete DeBoer said of Pavelski's status. "He's OK. He's walking out of the rink on his own OK."
Dumba was initially assessed a five-minute major penalty for the hit on Pavelski. A review led to the call being changed to a two-minute misdemeanor roughing penalty.
"To be honest, I thought it was a clean hit. I figured [the referees] were going to see the same. Shoulder on shoulder," Dumba said. "I don't even know why I got the roughing; probably because I was just in the box already."
DeBoer said after the game that he hadn't yet looked at the play in depth.
"We have the best officials in the world. They called a five, they reviewed it, which is the right thing to do. If they reviewed and decided it wasn't a bad hit then, you know, I guess it's not for me to argue with that," DeBoer said. "They got to look at it at multiple different angles, and that was the decision they made, so we've got to live with that."
Wild coach Dean Evason offered his take.
"You hate to see that. I don't care who you're playing against. You don't want to see anybody get hurt," Evason said. "But I am glad that we have video review. It looks like he hits him in the head; but obviously, if you watch it, the stick hits him. Obviously, we believe they got it right, but you still don't like to see anybody lay on the ice like that."
While Pavelski remained down on the ice, a scrum broke out between the teams that led to Stars forward Max Domi getting entangled with Dumba. Domi's right glove came off as he started swinging at Dumba. Any potential fight between the two was quickly ended with two officials and Wild star forward Kirill Kaprizov getting in the way.
Domi was given a 10-minute misconduct penalty.
"I didn't really see the actual hit real time; just saw Joe lying there," Domi said.
Asked about Dumba's penalty being reduced from a five-minute major to a minor, Domi responded, "I trust that they're going to make the right call. So whatever they saw, they saw and made the review. … It's part of the game."
A source told ESPN's Greg Wyshynski that the NHL Department of Player Safety decided not to have a hearing for Dumba after reviewing the play. Hence, the Minnesota defenseman will not be fined nor suspended for his hit on Pavelski.
Player Safety was focused on Dumba's timing. Although he received a minor penalty for roughing on the play, NHL Player Safety viewed Dumba's hit as close to being late but within the allowable window for him to check Pavelski after the Dallas forward had released the puck.
In 2019, Pavelski sustained a head injury following a hit from Cody Eakin during a first-round series between the San Jose Sharks and Vegas Golden Knights. Pavelski, who later told reporters he had a concussion, required eight stitches after the back of his head slammed against the ice in the third period of Game 7. Pavelski returned in Game 7 of a second-round series, before his Sharks ultimately advanced to the Western Conference finals.
Information from The Associated Press was included in this report.