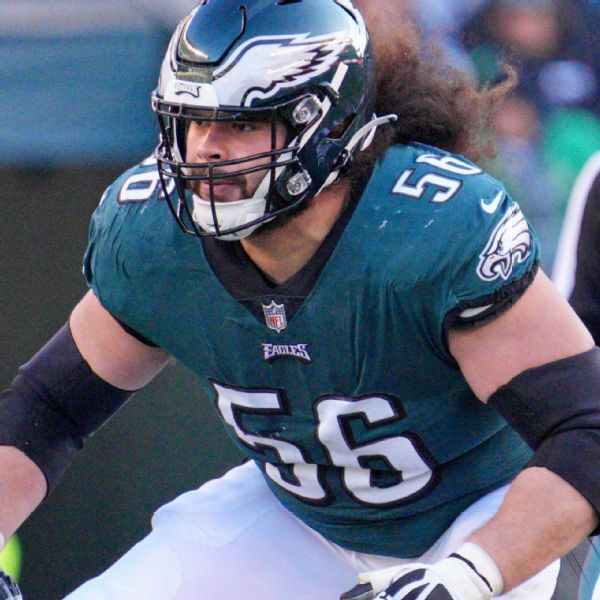 The Pittsburgh Steelers beefed up their offensive line Saturday night, acquiring a full-time starter from across the state.
Former Philadelphia Eagles guard Isaac Seumalo signed a three-year deal with Pittsburgh, sources told ESPN.
Seumalo is the Steelers' second offensive line signing in free agency, joining Nate Herbig, who spent three years with the Eagles before a one-year stint with the New York Jets. Both Herbig and Seumalo have ties to first-year Steelers assistant general manager Andy Weidl, who spent six seasons in the Eagles' front office, including three as the vice president of player personnel.
A left guard for most of his career, Seumalo switched to right guard for the 2022 season and offers the Steelers flexibility on the interior of the line. His addition also creates additional competition for third-year lineman Kevin Dotson for a starting left guard spot, or even James Daniels at right guard.
Editor's Picks
2 Related
Seumalo missed significant time with injuries during the 2020 and 2021 seasons but rebounded to play all 17 regular-season games for the Eagles in 2022 and was part of a unit that finished second in ESPN's run block win rate (75%) and fifth in rushing yards per game (147.6).
He has the foot quickness to redirect defenders and the body control to wrestle back against power rushers and create a firm base in the pocket. His pass block win rate of 93.6% ranked 15th among all guards this season, while his run block win rate ranked 20th.
Seumalo, 29, was a third-round draft pick by the Eagles in 2016 out of Oregon State. He has started 60 games over seven seasons in Philadelphia, helping to make up one of the better offensive lines in football over that stretch.
He is credited with helping to shape the game plan in the offensive line room along with position coach Jeff Stoutland and center Jason Kelce.
ESPN staff writers Tim McManus and Matt Bowen contributed to this report.